What is ActiveCampaign? Review [2020]
ActiveCampaign has made a name for itself as a powerful marketing tool that helps businesses automate their email marketing strategies and create targeted campaigns to send to their audiences. While email automation is a significant part of the platform, ActiveCampaign is so much more than that. With over 100,000 users across the world, they've become a tool that users rely on to stimulate growth within their businesses. 
In this article, we'll break down exactly how ActiveCampaign works, how to take advantage of its features, and the pros and cons of using it as automation software. 
What is ActiveCampaign?
ActiveCampaign is an integrated email marketing, automation, sales software, and CRM platform. It lets users perform powerful automation, email marketing, and customer relationship management. 
It provides a cloud-based solution to marketing and sales automation and includes features to create email marketing campaigns, web analytics, lead scoring, and customer relationship management. The platform gives users access to detailed behavior tracking and marketing segmentation options to create the most customized campaigns for every audience. 
And compared to other automation software, it comes at a very affordable price.  
Company Background
Founded in 2003 by Jason VandeBoom, ActiveCampaign started as a consulting firm helping small businesses automate their marketing tasks and manage their contacts. 
After 20 years of consulting, the company transitioned to a software as a service business in 2013. Now they have nearly 100,000 users utilizing their software to build marketing and sales automation.  
What Does ActiveCampaign Do? 
Now let's breakdown ActiveCampaign's most popular features and how you can use them to organize and track your contacts and automate your business. 

Email Marketing
ActiveCampaign lets you send whichever kind of email you need for your business. It gives you ultimate control over the types of emails you send. The best part is that you don't need to be a tech pro to create beautiful and engaging email campaigns in minutes. 
ActiveCampaign's drag and drop email builder makes it easy for anyone to build an email from scratch or use one of their templates. Additionally, you can create functional subscription forms, dynamic content, email segmentation, and conduct helpful split tests on your campaigns.
Subscription Forms 

 Create simple signup forms to capture your audience's contact information and tag people based on their interests. From the form, you can create welcome sequences, follow up emails or notify people on your team of new subscribers. In ActiveCampaign, you can create campaigns that are triggered when a contact submits a form.
There are four different forms to choose from, depending on the type you need, including inline styles, floating boxes, modal pop-up, and a floating bar. The signup form builder gives you the ability to embed forms directly on your website in seconds.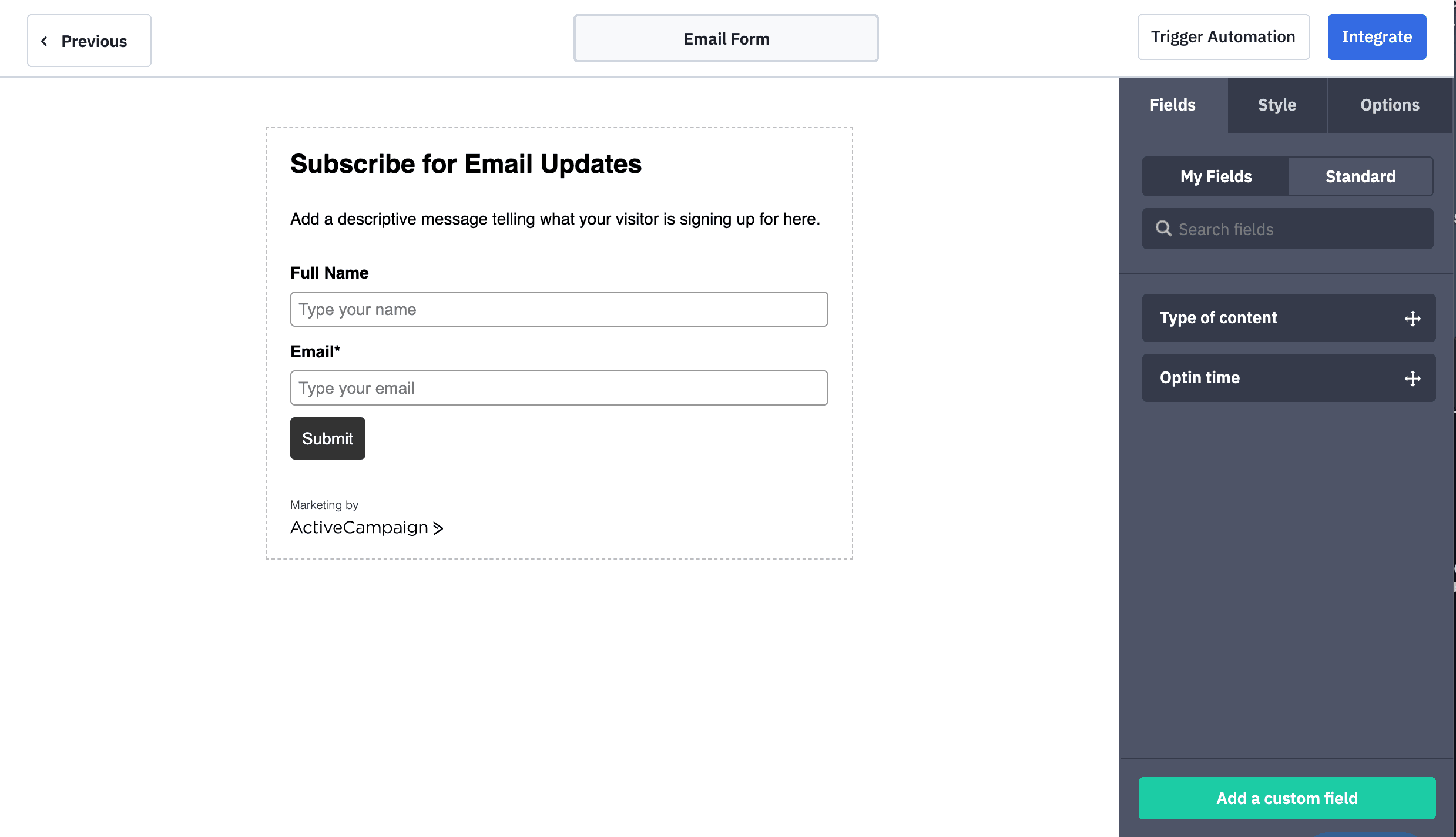 Dynamic Content 
Combine tagging and conditional content to send your audience different messages based on what they want to see. Dynamic content lets you customize the text and media in each email based on who you are sending it to. This allows you to engage with different segments of your audience at once while knowing that they are getting content that is relevant to them.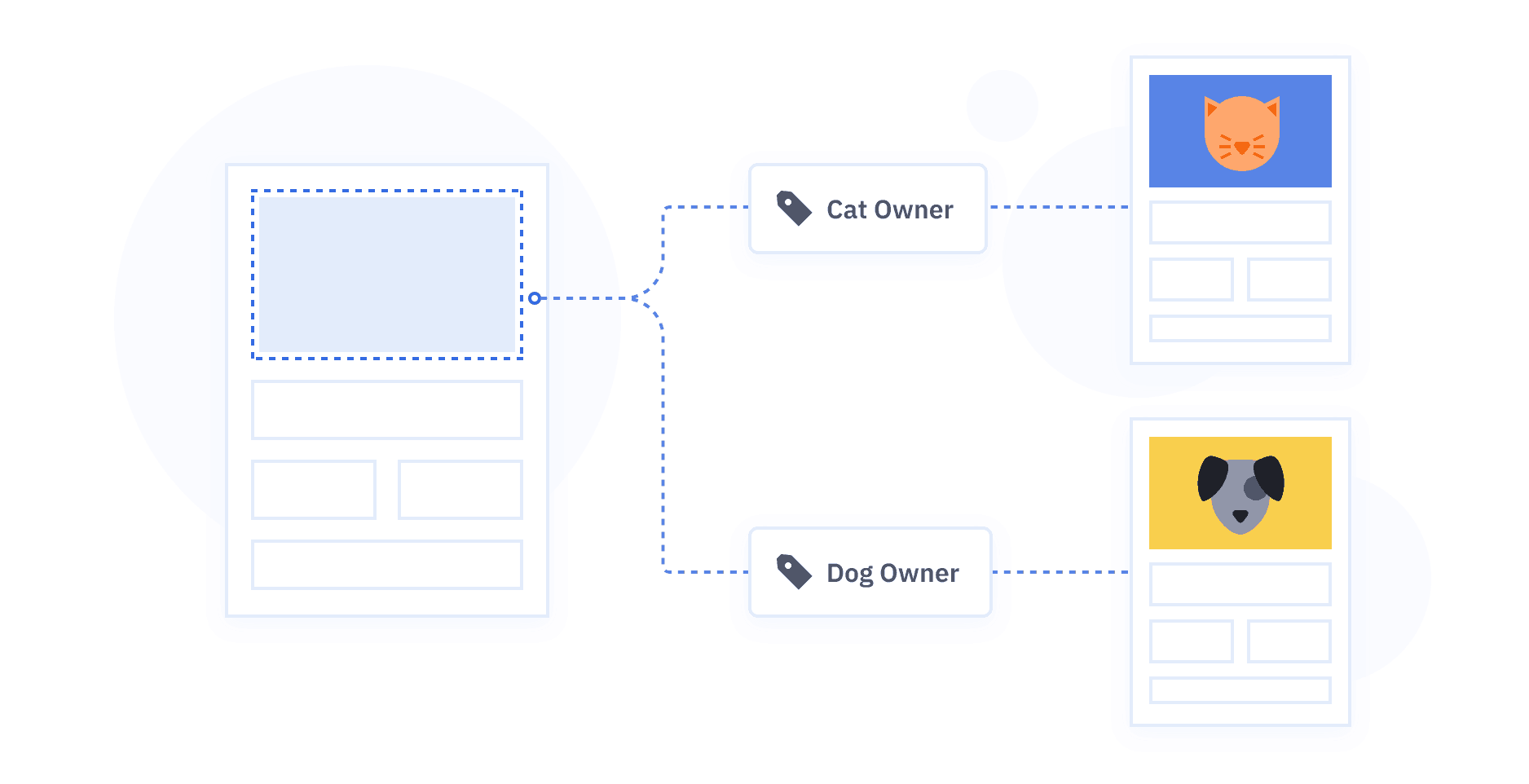 Email Segmentation 
Generic email blasts aren't enough when you're trying to engage multiple audience segments. Once you've created your dynamic content, you can segment your emails so that the messaging goes to the right people, who are interested in that content. With email segmentation, you know that each contact gets the emails that they want to see, which leads to higher engagement rates and open rates. 
Your content will feel more personal and build more trust among your audience. ActiveCampaign can automatically segment your audience based on actions they take, like visiting your website or clicking the links in your emails. Then you can use this information to send more personalized emails to your audience.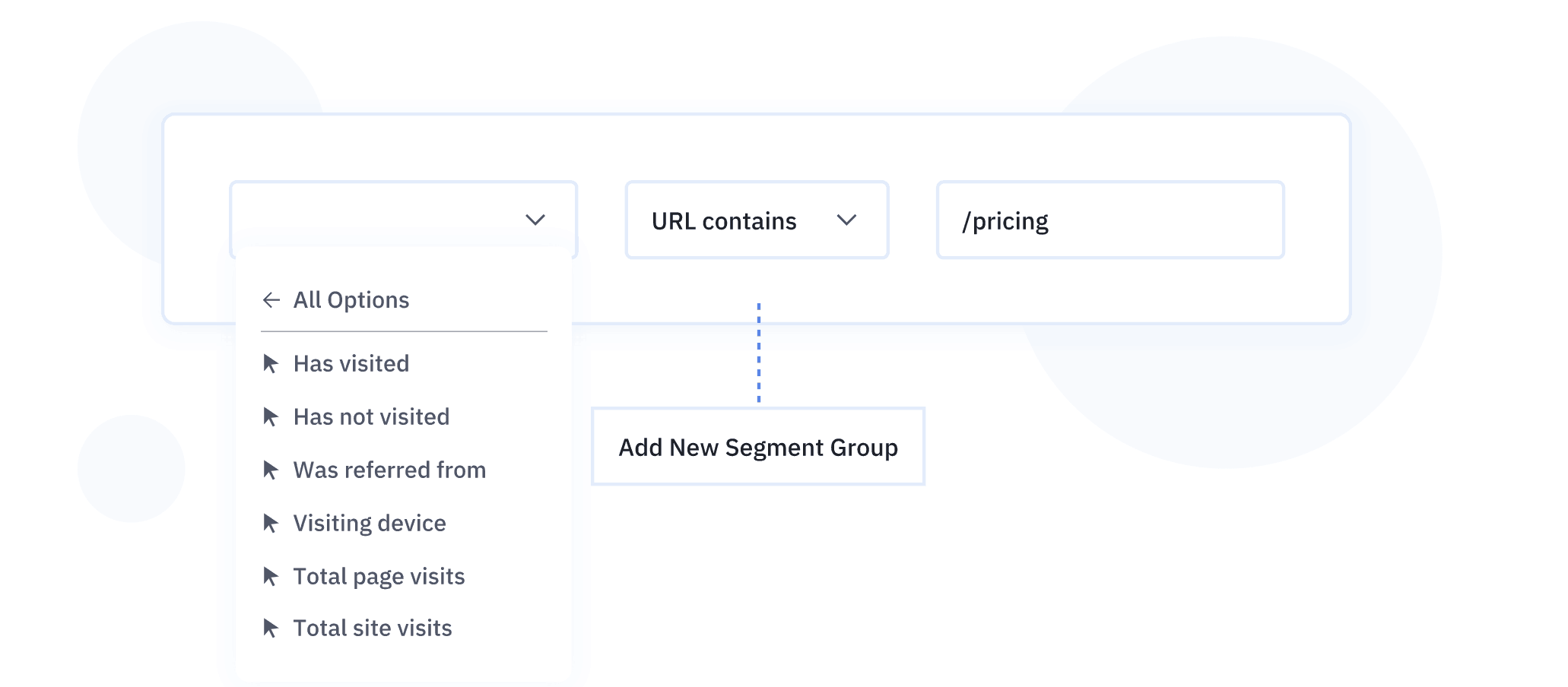 Split Testing 
One split test can help you boost open rates and improve the messaging within your emails. You can split test subject lines, email copy, calls to action, and even images and media within the email to see what your audience likes the most. If you're running complex automations, you can test the entire workflow to make sure that your funnel is converting as well as possible.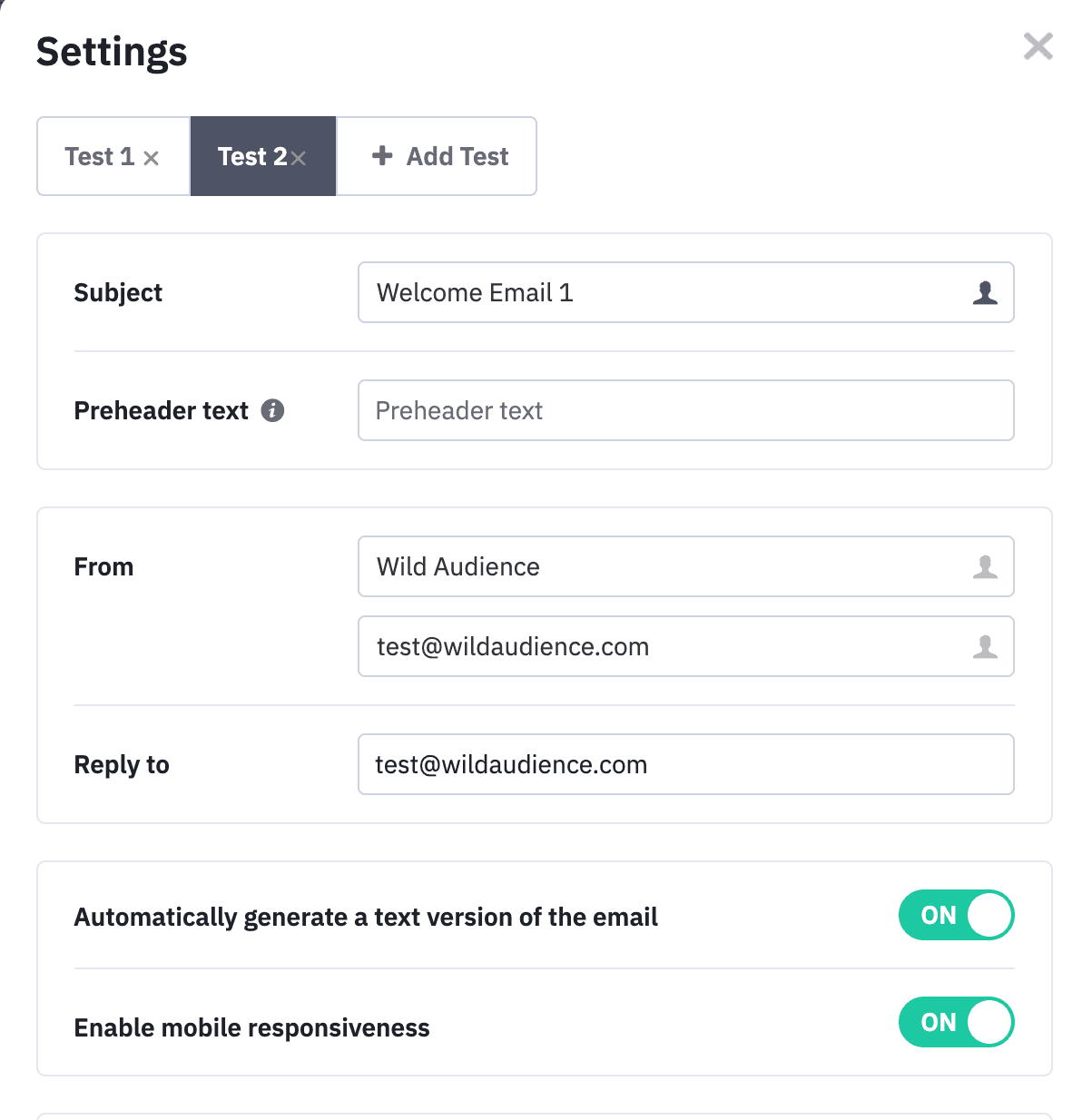 Marketing Automation 
Automating your emails is like having an extra set of hands to give you time to focus on other tasks. ActiveCampaign has powerful marketing automation functionality to help you track your website events, automation goals, create automation maps, attributions, and split actions. 
Site Tracking 
With site tracking, you can see which contacts interact with your website to better understand what they're looking for. ActiveCampaign's site tracking lets you see which products and information your contacts are looking for on your website so that you can follow up with them with more information to help create more engagement and boost conversion rates. 
Event Tracking 
Every click, login, or view is tracked as an event within your ActiveCampaign contacts to keep track of what your audience is interested in. Whether you have a website, membership site, online portal, or shop, you can track user actions that will help you follow up and create even more customized email campaigns to move contacts further down the funnel.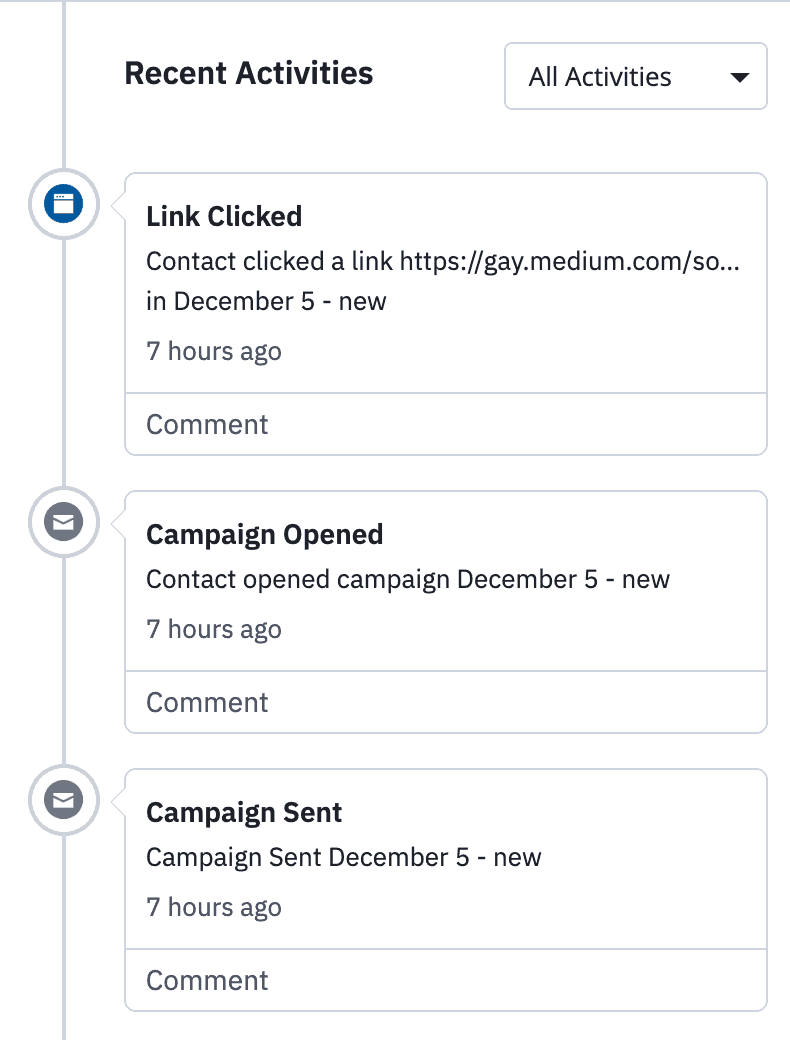 Automation Goals 
Tracking automation goals lets you see what different segments of your audience needs and who needs more warming up. With ActiveCampaign automation goals, you can see how people are moving through your funnel and where people are dropping off so that you can make adjustments. 
Tracking micro conversions like clicks, opens, and plays lets you see which parts of your funnel are getting engagement, and where your funnel could use some TLC. Goal tracking also gives you an idea of when your audience is more likely to convert, where to upsell, and when to start a sales sequence when your audience is warmed up. 

Automation Map 
The ActiveCampaign automation map is a handy tool that helps you see how your different automations connect and work with each other. It makes it easy to see your email marketing from a bigger picture view and find new opportunities to maximize your business growth. The map view lets you visualize your entire funnel map and see how every component connects. 
The map gives you a high-level picture of your reports based on the performance of each automation so that you can make adjustments to your strategy based on what you see working in your funnel.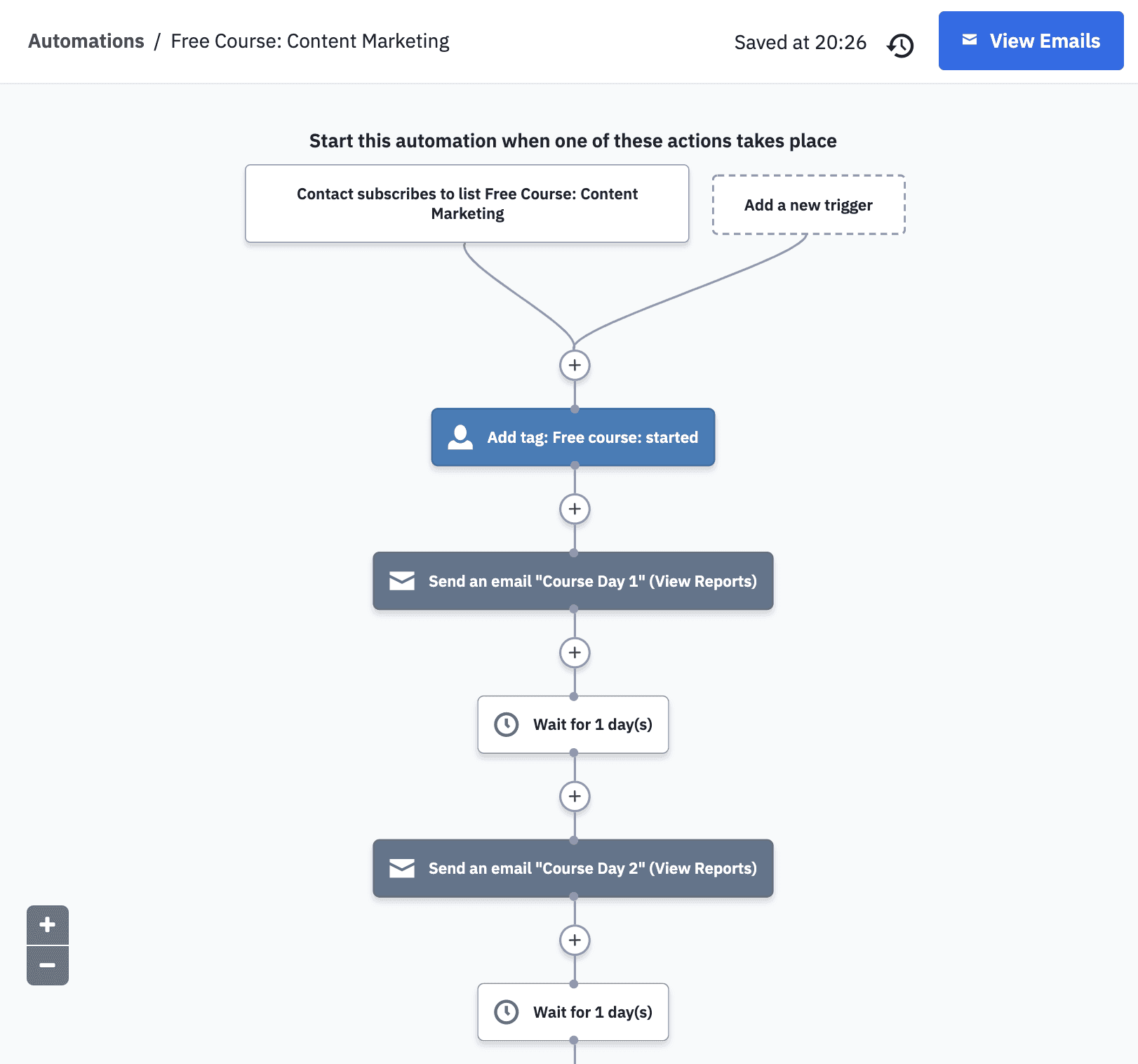 Attribution 
The customer attribute feature lets you see what parts of your marketing campaigns are performing best by tracking your customer journey from start to finish. YOu can see whether they convert better from SEO, social media, PPC, or another marketing challenge that you might be underutilizing. 
Knowing where your customers come from and where they're most likely to convert can help you create the most profitable funnel possible.     

Sales and CRM
A sales CRM works as your own personal automation tool to help you prioritize, which leads to focus on selling to. ActiveCampaigns sales CRM lest you manage all of your contacts efficiently and store all of the information you need to create campaigns that convert. 
Contact and Lead Scoring 
One of the best ways to increase conversions is to make sure that your audience is warm enough to buy before you start selling. A lead score is a number that is calculated based on how often your contact interacts with your business. The more they visit your site, click your emails, or engage with your contact, the more the lead score increases. ActiveCampaign lead scoring gives you the ability to score your leads by tracking engagement and activity, so you know which users are warm enough to sell to.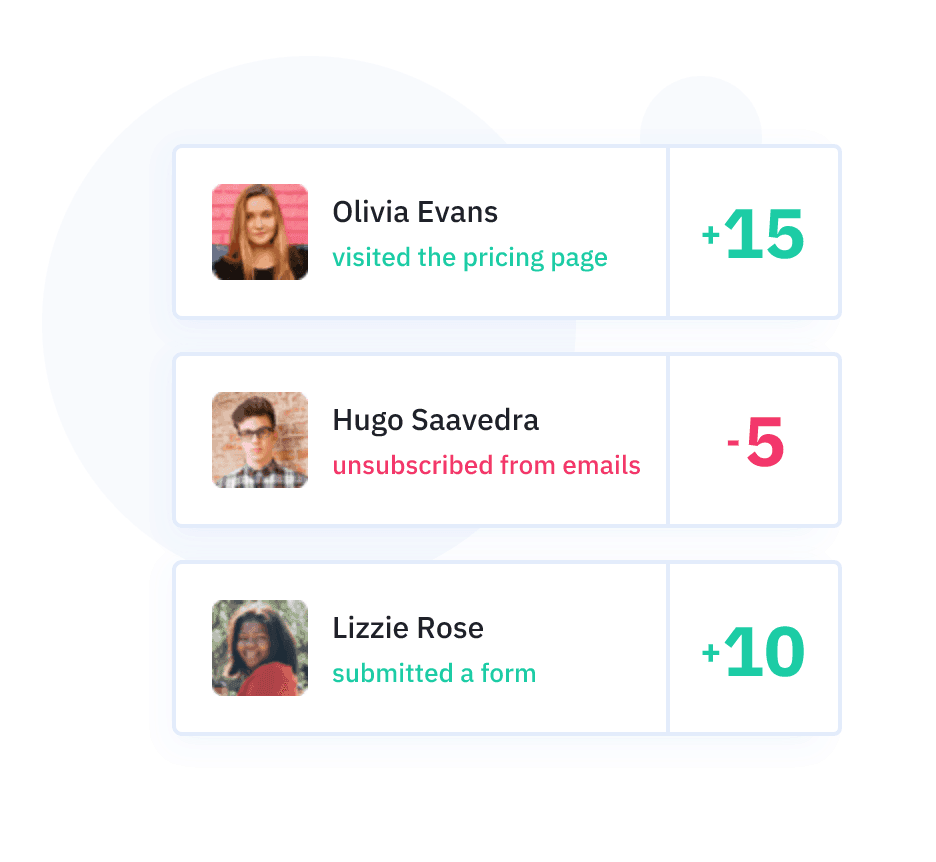 Gmail extension 
ActiveCampaign's Gmail extension helps you manage all of your sales communication right from your Gmail inbox. You can tell how many times your contact has viewed, opened, or interacted with your emails. Then you can respond to them via Gmail and automatically view that information in their contact card in ActiveCampaign, making it a hub for all of your contact information.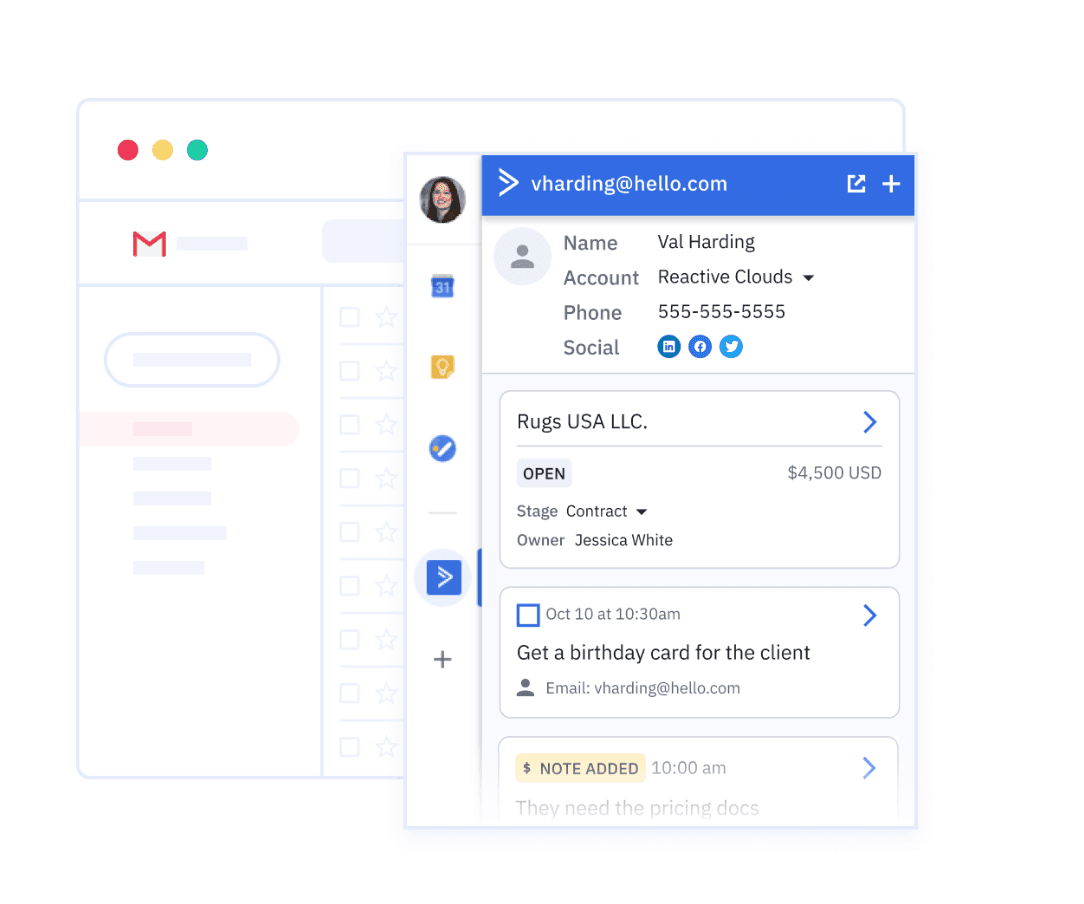 Messaging 
More than ever, people are turning to mobile to access their emails, favorite websites, and more. ActiveCampaign lets you meet your contacts where they are by contacting them on their mobile phones and social media through your ActiveCampaign account.
SMS
You can send your contacts SMS messages manually or through automated workflows that follow up your contacts at the optimal day and time for them to see it. You can even ask your contacts to subscribe or unsubscribe to your list via SMS and import that information directly into ActiveCampaign. The platform integrates with phone numbers so you can collect numbers via custom forms on your website or landing pages. 

Site Messages 
Site messages let you contact your audience during the exact moment they are engaged on your website. Just like with other message types in ActiveCampaign, you can customize site messages for identical audiences and create custom designs and messaging that relates to the specific contact you are speaking to.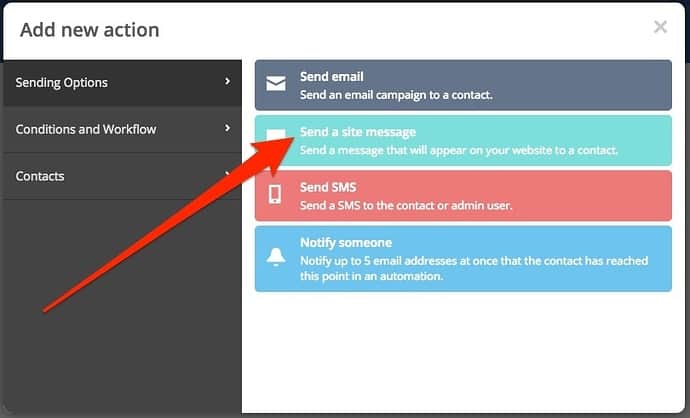 Facebook Custom Audiences 
If your business is using Facebook ads, you can use the information in your Facebook custom audiences to further track your audience through their customer journey. Use the data collected by ActiveCampaign such as clicks and engagements to retarget your audience with custom Facebook ads that speak directly to them and continue to add more value before you start the sales process.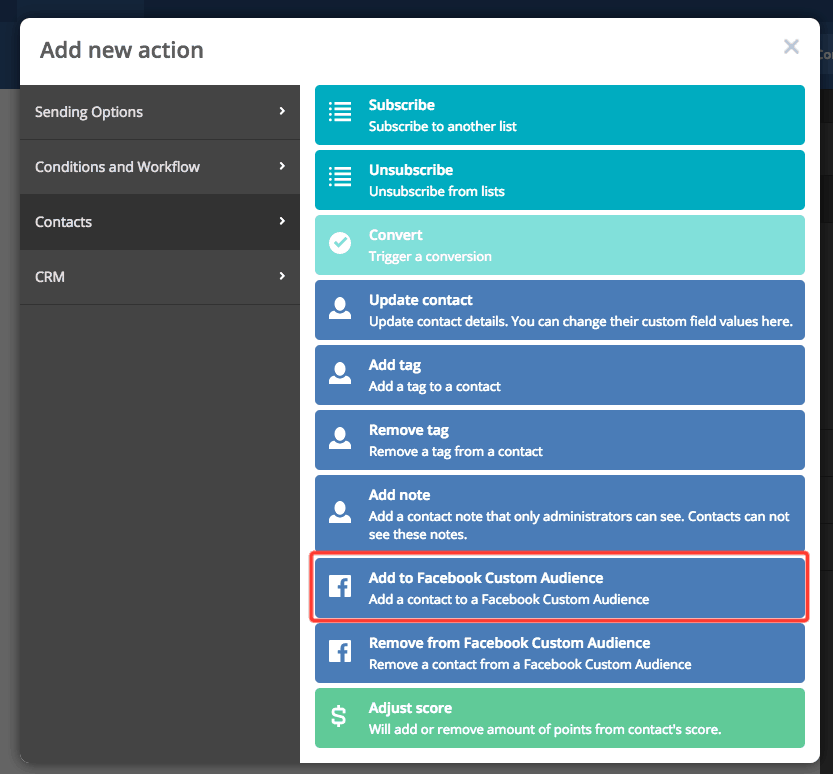 Conversations 
You can have live conversations with your audience by combining automation with real-time chat on your website. You can use ActiveCampaign's Conversations feature to send chat follow-ups, tag users, and create custom new deals for users on your website. You can also connect the information you collect via chat to your contact's record in ActiveCampaign to keep all of your data in one place.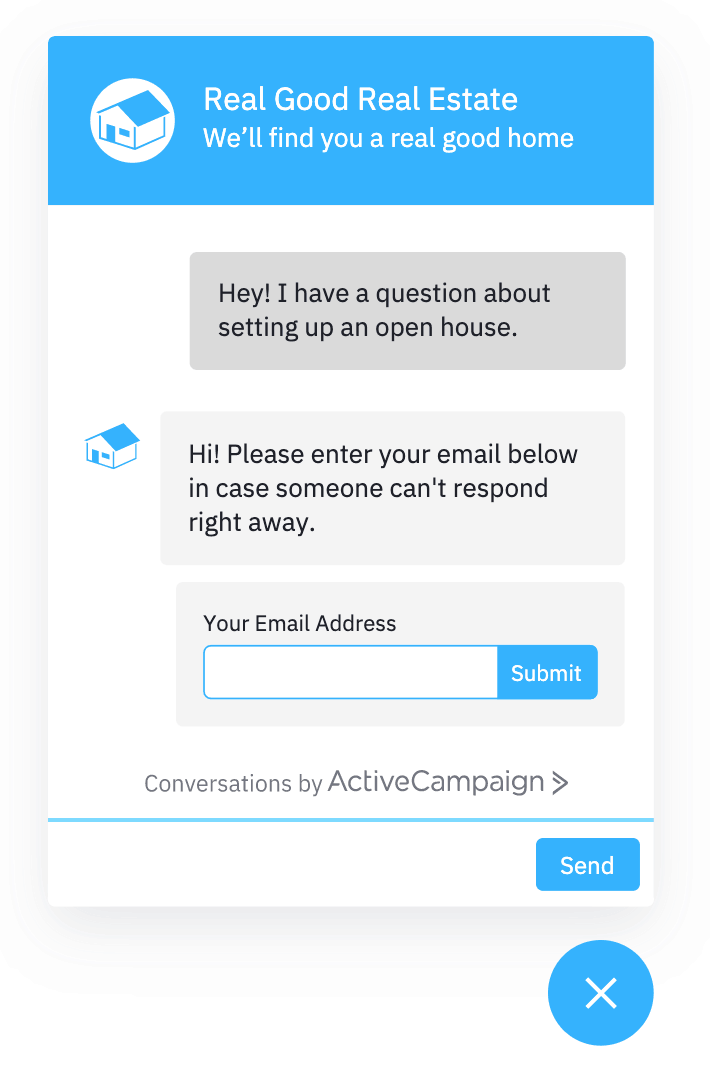 Who should use Active Campaign?
ActiveCampaign is built for anyone who wants to utilize email marketing to its full potential. Beyond just sending email newsletters, it's for businesses who wish to automate their marketing to maximize conversions and sales fully. Companies that have complex offers or multiple products can utilize ActiveCampaign to personalize the customer journey, track reports, and manage their contact lists more efficiently. 
Customer Service & Support
ActiveCampaign offers support via email, live chat on their website, and one on one training. They also have a robust Help Center, and online community forum for that users can utilize for help troubleshooting common problems. 
If you need more hands-on support, they offer free migration services and have a directory of certified consultants. You can work with these consultants to create a personalized strategy to use ActiveCampaign to your highest advantage.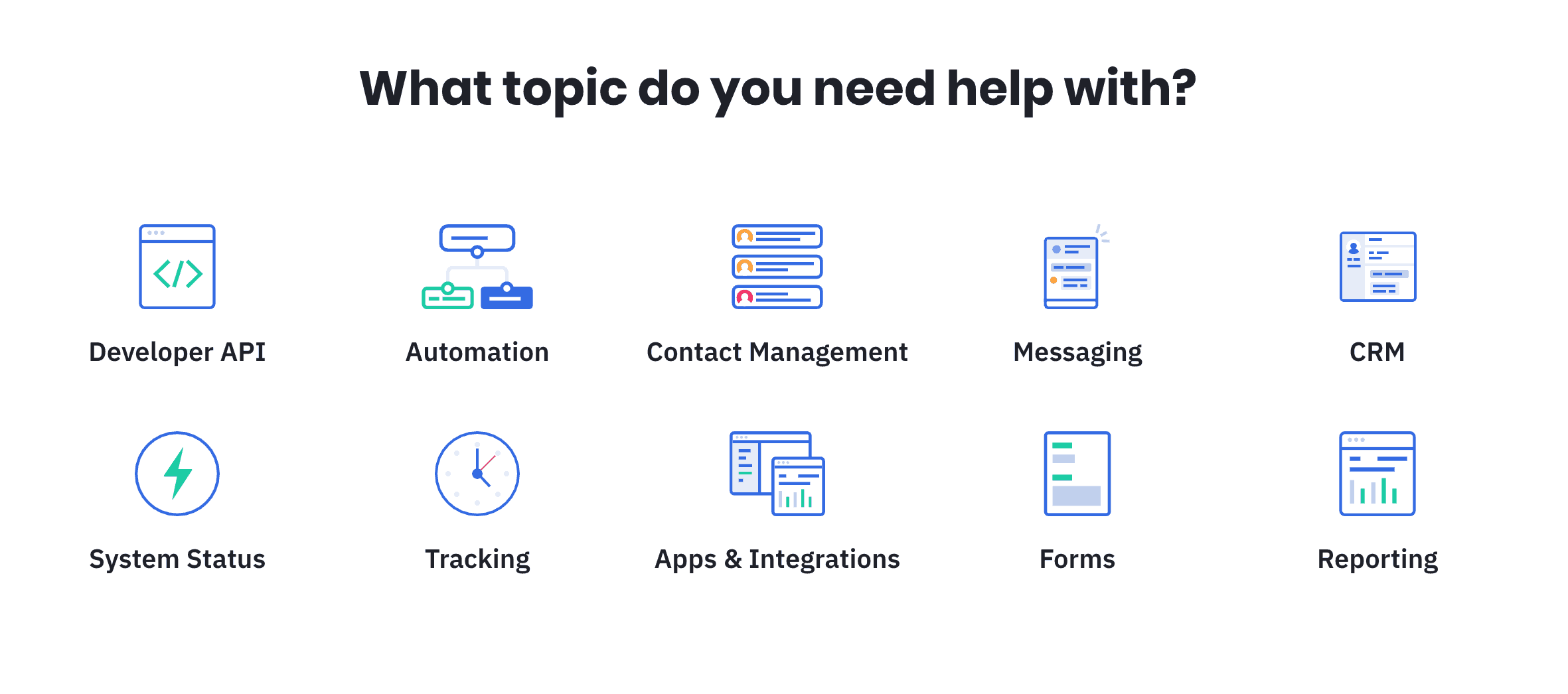 Pricing
ActiveCampaign uses tiered pricing based on the number of contacts in your customer database. First-time users get a free-14 day trial, after which they can choose monthly or annual billing.
Ultimately, how much you pay depends on how many contacts are in your database. The more contacts you have, the higher the cost. The minimum number of users you will be charged for is 500, with the price gradually increasing as your contact list grows. 
The four plans they offer are Lite, Plus, Professional, and Enterprise.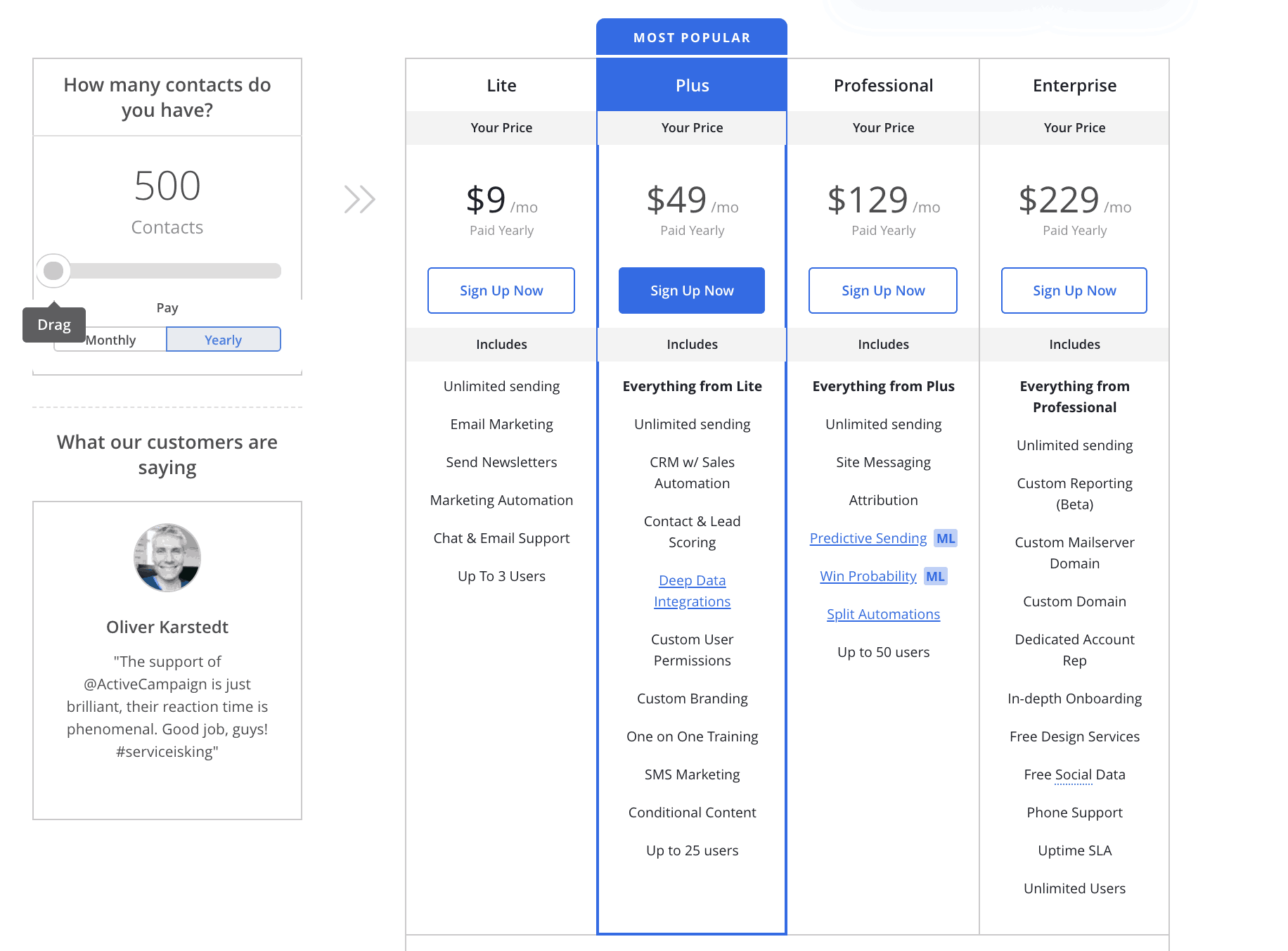 The Lite plan starts at $9/month for 500 contacts and includes:
Unlimited Chat & Email Support
The Plus plan starts at $49 /month for 500 contacts and includes:
Everything from the Lite plan

Logins for up to 25 users
The Professional plan starts at $129 /month for 500 contacts and includes: 
Logins for up to 50 users
The Enterprise plan starts at $229 /month and includes: 
Everything from the Professional plan

A custom mailserver domain
Pros and cons
Pros 
Pricing – ActiveCampaign offers straightforward pricing, and the value you receive goes way beyond what you pay for. It's not the cheapest email marketing service, but is also not the most expensive tool, especially when you factor in everything it does. 

Usability – Its interface may take some time to get used to, but the platform itself is very intuitive for non-designers and non-technical people. Non-tech savvy users love its drag and drop features in the email builder and when creating automations.  

Comprehensive business hub – Since you can connect dozens of business tools to ActiveCampaign, it acts as a complete hub for all of your user information.  

Robust data collection tools – From tagging and lead scoring to sophisticated user tracking, ActiveCampaign acts as a robust CRM, helping you collect and store information about your audience much more comprehensively than other email marketing or automation tools.

Complex automation capabilities – You can import automations and use templates 

Excellent customer support – ActiveCampaign offers a handful of different options when it comes to customer support, so you always have a way to troubleshoot issues within your account. 
Cons 
Technicality – It takes a few clicks on the dashboard to find where you are trying to go, which involves a slight learning curve at first. However, once you know where everything is, the platform is easy to navigate and access all of its features. 

Glitchy reporting tool – One of the biggest complaints among users is the functionality of the reporting tool. You can currently see the necessary reporting data from your dashboard, but need to export the data to dig into the results, which can be frustrating for some people. 
Active Campaign is an affordable and robust email marketing tool. The value the tool provides, the features, the support, the consistent updates to the tool make it a perfect choice for virtually any business who is doing email marketing and automation. 
For a more in-depth look at all of ActiveCampaign's features, check out our free 20 lesson course covering everything you need to know about creating successful email marketing and sales automation.