How to Set Up the ActiveCampaign LinkedIn Integration
If you're an entrepreneur, digital business, or sales team looking to automate your marketing and sales actions, integrating ActiveCampaign with LinkedIn can help you achieve your goals. 
In this article, we'll show you how to set up the ActiveCampaign LinkedIn integration in just a few easy steps.
Step 1º: Create a LinkedIn form
The first thing that you'll need is a LinkedIn form to collect data from your users.
This form is a special feature inside the platform. To learn how to create one, check our tutorial 🔽
Once you have created your LinkedIn form, it's time to connect it with ActiveCampaign. 
To do this, you'll need to use a third-party integration tool called Zapier. Zapier allows you to connect your LinkedIn form with your ActiveCampaign account and automatically transfer your new leads into your ActiveCampaign contact list.
Step 2º: Create a Zap to connect LinkedIn with ActiveCampaign
To get started, log in to your Zapier account and create a new Zap. Select LinkedIn as the trigger app and choose "New Lead Gen Form Response" as the trigger event. Then, select your LinkedIn form from the dropdown menu.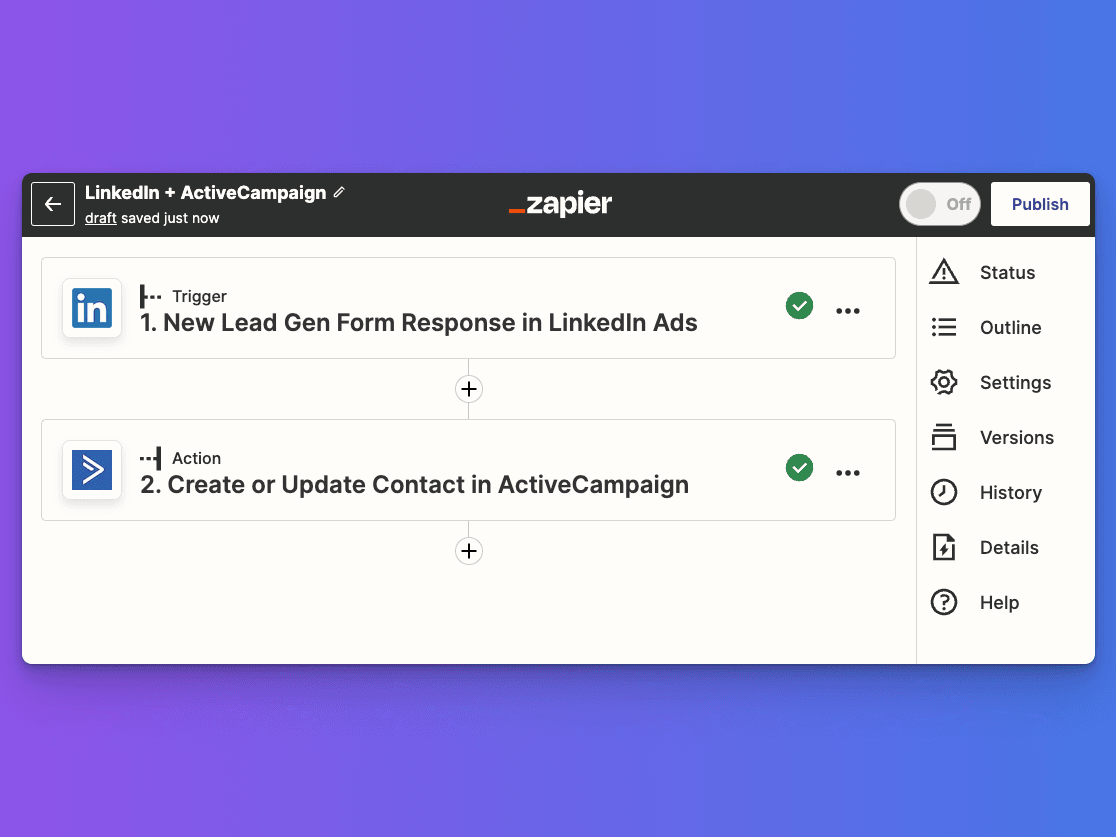 Next, select ActiveCampaign as the action app and choose "Create/Update Contact" as the action event. Then, connect your ActiveCampaign account and map the fields from your LinkedIn form to your ActiveCampaign contact fields.
Finally, test your Zap to make sure everything is working properly. Once you've confirmed that your Zap is working, you're all set! Your LinkedIn form is now integrated with ActiveCampaign, and any new leads you collect will automatically be added to your ActiveCampaign contact list.
Watch our full tutorial to see how to do it quickly!
#3 Benefits to Integrate ActiveCampaign with LinkedIn
Streamlined lead generation: Integrating ActiveCampaign with LinkedIn allows you to collect leads directly from the platform and transfer them into your ActiveCampaign account seamlessly. This automation saves time and effort, ensuring that you don't miss out on any potential leads.
Personalized marketing campaigns: By gathering additional data about your LinkedIn contacts, such as their job title and company, you can personalize your marketing campaigns to better resonate with your audience. ActiveCampaign's powerful automation features allow you to create targeted campaigns based on specific criteria, such as job title or industry, to deliver the right message to the right person at the right time.
Increased sales conversions: By automating your lead generation and personalized marketing campaigns, you can nurture your LinkedIn leads through the sales funnel and increase your chances of converting them into paying customers. ActiveCampaign's automation features enable you to send timely and relevant messages to your leads, keeping them engaged and interested in your product or service. This can lead to increased sales conversions and revenue for your business.