What is a Relationship Funnel? How Is It Different?
Quick Summary
Here's a quick summary of this article so you can decide if you are interested in it or not.
What is the definition of a Relationship Funnel?

How are Relationship Funnels different from normal marketing funnels or sales funnels?

Do Relationship Funnels actually work?

The strategy behind Relationship Funnels explained.

How you can build your own Relationship Funnel in 9 steps.

Benefits to Relationship Funnels
When I started my own business selling information products, I struggled to even make a full-time income using marketing funnels and product launches.
With this approach, I also had to keep doing launches which were very time-consuming.
I also knew that if one of my launches failed, my cash flow could be crippled. And one day that's exactly what happened.
That's when I came up with the idea for Relationship Funnels and quickly grew my business to 5-figures a month!
Relationship Funnels are a powerful tactic. Other businesses have implemented them to boost engagement, achieve higher email open rates, better conversion rates, and significantly more sales.
And the best part is that it can be fully automated!
Do you want to learn how to implement this powerful marketing funnel in YOUR business?
Great! Let's get started.
1. Relationship Funnel Definition
So what exactly is a Relationship Funnel?
Relationship Funnel is optimized for two things:
1) To establish a relationship with potential customers on autopilot and install buying beliefs
2) Once they are ready, present our offer as the solution to their problem at the perfect time.
Relationship Funnels focus on building a real relationship first. Build trust by teaching and focus on giving value to your audience.
Later, sell prospects the solutions to their problems. If you've done a good job of building the relationship, your prospects will be willing and even eager to buy from you.
2. Relationship Funnels vs a Regular Marketing Funnel – What's the Difference?
Some people might compare Relationship Funnels to typical sales or marketing funnels, but they have some important differences.
Sales funnels often apply sales pressure tactics like scarcity and urgency to pressure prospects to buy now.
Relationship Funnels, on the other hand, don't rely on high-pressure sales tactics. Instead, they focus on building relationships with prospects by giving value through content and education.
In fact, good Relationship Funnels may even cause prospects to ask you to buy something even before you present your offer.
Don't be surprised if you start getting messages like this: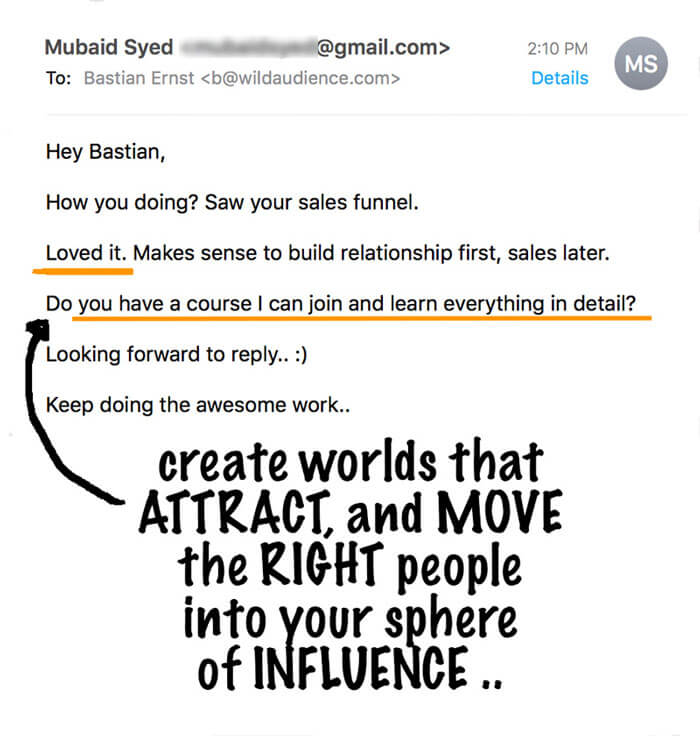 People that are exposed to a Relationship Funnel don't feel pushed or pressured into buying something. Instead, they feel pulled towards buying due to the positive experience that they received through the Relationship Funnel.
We achieved an incredible 8.66% sales conversion rate with our company Relationship Funnel.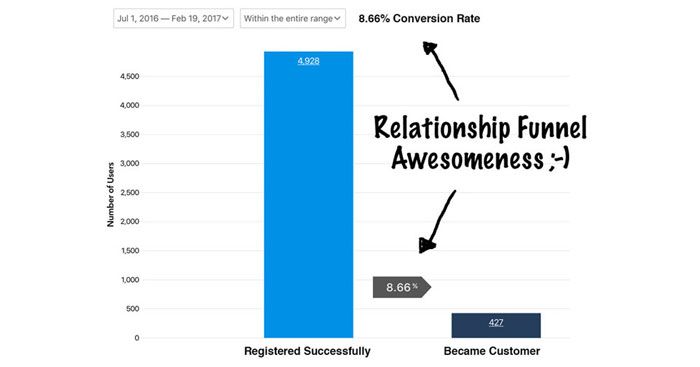 3. Do Relationship Funnels Actually Work?
While most online entrepreneurs know about sales funnels, many still haven't heard about Relationship Funnels.
Do people actually use them?
More than 1,100 online businesses worldwide use Relationship Funnels in their business to sell their products or services.
Wild Audience clients have gotten results like this:
Joe generates 1 million Euros each year with Relationship Funnels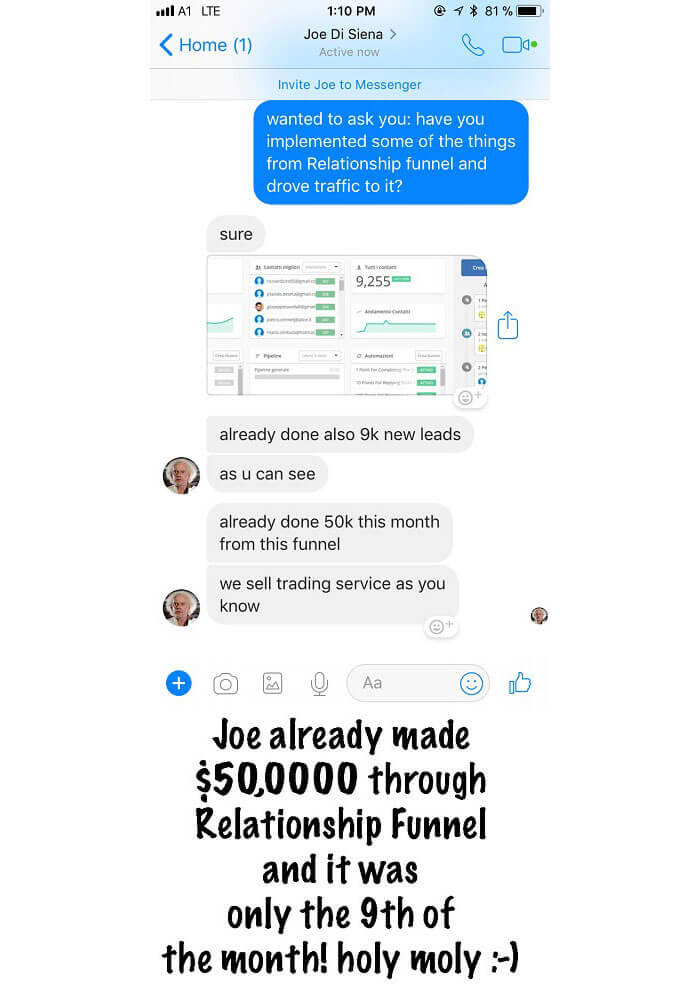 Matias achieved an amazing 34x increase in his click through rate from 1.7% to 58%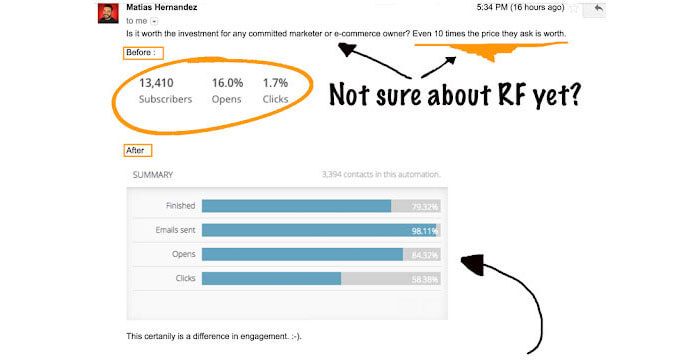 Mubaid achieved a 9-10% funnel conversion rate, converting roughly one out of 10 prospects into sales.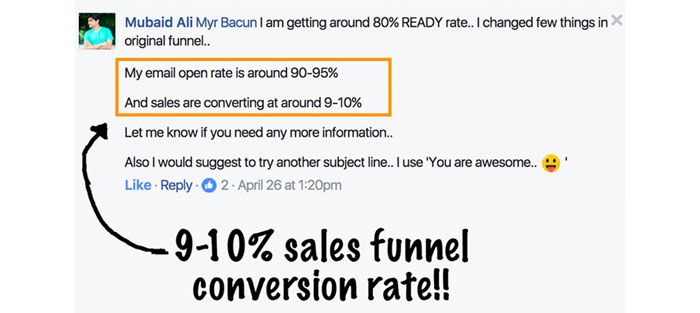 And hundreds of other students have shared testimonials, videos and screenshots of their results here.
If you want to see a real-world case study on how a 7-figure online business does this step-by-step, click on the image below and download your PDF.
4. The Relationship Funnel Strategy Explained
The strategy behind a Relationship Funnel can be explained in 4 simple steps.
Step 1 – Get the attention of your audience & maintain it.
Getting attention is hard, but retaining attention is even harder. Figure out the best way to get the attention of your prospects.
Select lead magnets that target the pain points of your prospects.

Stimulate their curiosity by sharing information they can't easily find online.

Test out different headlines and copy. See what works and what doesn't.
Focus on creating awareness for your brand and and keeping their attention once they are in your funnel.
Step 2 – Segment your people. Understand that each person has different problems and different goals. Figure out how you can help them.
You can use your opt-in form to segment new subscribers by asking them 4-5 questions about their goals, problems and interests.
Here's an example of how we segment people during the sign-up process. After clicking on an image or button to opt-in, the reader can answer a few quick questions.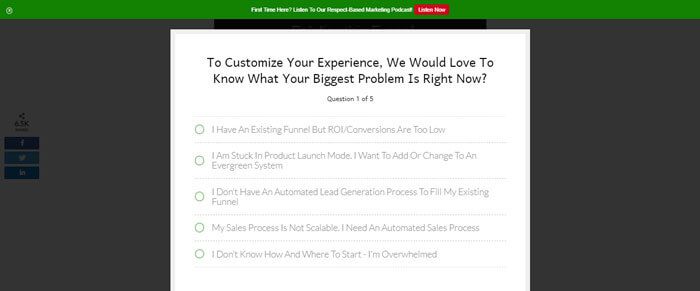 When people answer these questions, the email marketing software will automatically tag them or segment them into groups based on their interests.
Step 3 – Use the data to personalize the experience.
With email marketing tools like Active Campaign, you can send different emails to different segments of your email list based on what they are interested in.
You want to send content that is relevant to your prospects because it will increase engagement. Higher engagement leads to more sales.
Help your prospects first. Build the relationship and gain trust. Then sell.
Step 4 – Engage your audience through content
Besides creating a personalized experience, you also want people to engage with you and take action.
So how do you engage your readers?
Here are a few suggestions…
Add a CTA within your Relationship Funnel. A simple example might be to ask your readers to post a comment in your Facebook group.

Allow readers to choose how frequently they receive emails. Give your readers a choice so that they can choose their own path.

Use the Gmail-Zapier hack. By integrating Gmail and Zapier, you can send your readers an automated email if they take a specific action.
For example, if they click on the link to your sales page a couple of times, you can send
Then a message like this: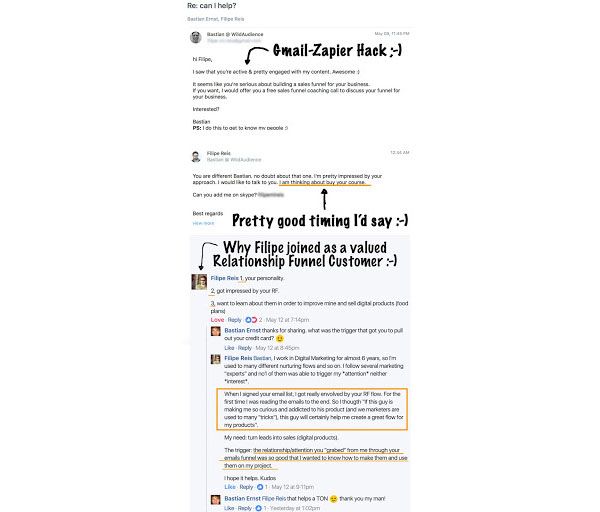 What's awesome is that even though the email is automated, it looks like a personalized email that I sent directly to one person.
Step 5 – Automate the whole thing including the email sequences, advertisements, and the entire sales process. Software tools make it easy for you to scale your business by automating everything.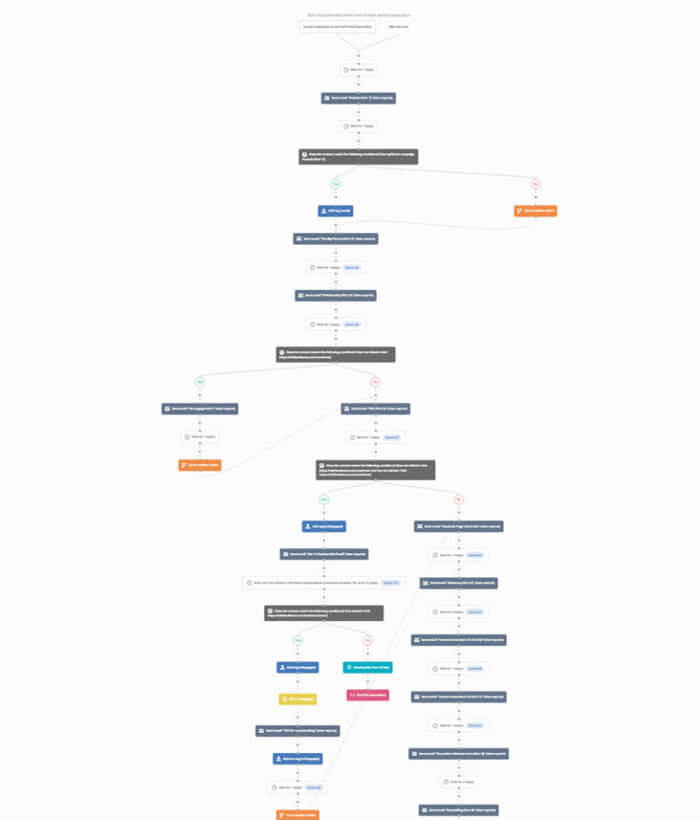 5. How to Build Relationship Funnels in 9 Steps
Step 1 – Define Your Value LadderStart with a lead magnet, which can be a PDF or video or some other type of content.
After that, offer a low-end product that is inexpensive, but has high perceived value. This is called a front end offer.
For example, let's say you are selling a $10 eBook as your front end product.
Make sure you deliver so much value in this eBook that your customers will be blown away by how much value you gave them for $10.
Focus on creating an experience that will let customers feel like you over delivered and that they got a ton of value for their money.
Why do you want to do this?
Because providing an amazing first purchase experience will get them excited about buying your next product! Since they know you deliver a ton of value in your lower-priced products, they'll be eager and willing to buy your higher priced products or services.
To break even on your customer acquisition costs have an upsell behind your front end product.
A $50 – $100 upsell can increase the average order value on your front end product. This upsell will help us cover the cost of Google and Facebook ads.
You can then sell your core product to customers who purchased your front end product. Price this product higher than your front end product.
People who purchased your front end product will be pre-sold on this product because you've already delivered them a lot of value on their previous purchase.
You can also have additional back-end products that you can sell at even higher prices. For example, a few high-end customers might be willing to purchase a $10,000 done-for-you service or in-person consultation.
Existing customers are more likely to buy from you because they are already familiar with your brand and they've already had a positive experience and relationship with you from their previous purchases.
Start with just the core product and lead magnet and come up with your front end product later.
Step 2 – Creating Your Belief SystemA belief system consists of any biases or beliefs that a person will have about you and your products.
For example, if a person eats an orange for the first time and has a bad experience because the orange was old and rotten, then they may believe that oranges are bad.
To convince the person that oranges are good, you will have to install a new belief. You may have to explain that oranges are healthy and convince the person to try oranges again to overwrite their old belief system.
What does your ideal customer need to believe before he or she can become your customer?
Write down all ideas that come to mind. You may come up with a few ideas or even a dozen beliefs that you will need to install into your customer's belief system.
Step 3 – Map Your BeliefsAsk yourself where you will install each belief. Each piece of content you create should be designed to install a new belief in your customer's mind.
Step 4 – Create a Lead MagnetA good lead magnet will filter out the wrong people and lead the right people to you.
Here is an example of one we use at Wild Audience. The article below displays an image that offers a free download of my Relationship Funnel graphic.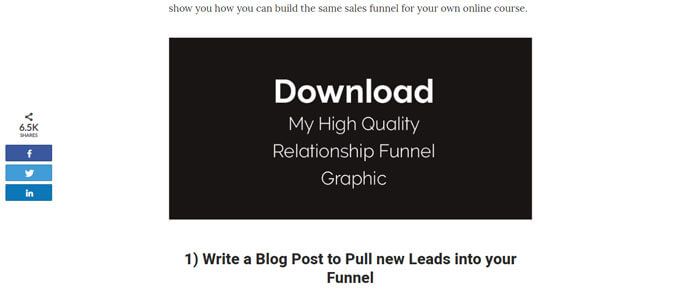 Only people that are interested in Relationship Funnels will click on it, which allows us to build a highly targeted list.
Step 5 – Build a Relationship Building Sequence (RBS)Your email sequence will build a relationship with your prospects and also install the right beliefs into their belief system. Your RBS should also be optimized to engage your audience so that they get excited, hyped and eager to purchase your product.
Step 6 – Decide On Your Sales (or Conversion) EventYour sales page can be a text sales letter, video sales letter (VSL) or a hybrid page which contains both text and video. You can also use an evergreen webinar.
Keep in mind that what gets people to buy is not the sales event so much, but everything that happens before it. The RBS gets people excited for your offering. 
Step 7 – Launch Your FunnelTry to launch to 250 new prospects to test your funnel. Facebook ads or groups can be a good way to get new prospects into your funnel.
You want to get new prospects into your funnel to test it because your existing customers already know you and are more likely to buy. Testing the funnel with fresh prospects is a great way to make sure that your funnel converts.
Your funnel might not be profitable initially and that's ok. It may take 2-3 iterations to test your funnel and get it ready to scale.
Step 8 – Optimize Your FunnelOnce people have gone through your funnel, look at your numbers and figure out where the weak points in your funnel are. Improve on those areas, fix any mistakes and once you've optimized your funnel, you are ready to scale.
Step 9 – Scale Your GrowthNow that your funnel works the way you want it to, you can increase ad spend and maximize other lead generation channels to get as many people into your funnel as you want.
6. Benefits to Relationship Funnels
So what are the benefits of a Relationship Funnel? And why not just use a traditional marketing funnel?
a) Relationship Funnels work better (especially over the long run) because they focus on building the relationship first before selling.
Once people trust you and see that you are someone that delivers a lot of value, selling becomes much easier.
b) Relationship Funnels combine marketing automation (using Wild Mail) technology and human psychology to achieve optimal results. They allow you to get into people's hearts and minds and ultimately generate sales that will allow your business to grow.
c) Wild Audience customers achieve high click-through rates, open rates, and sales conversion rates. They achieve extraordinary results by engaging with the right people using what we call "engagement hooks" including open loops, cliffhangers, micro investments, and frequency selectors.
For example, Landon Porter achieved a 6% conversion rate and made over $6,000 in 6 weeks from his Relationship Funnel: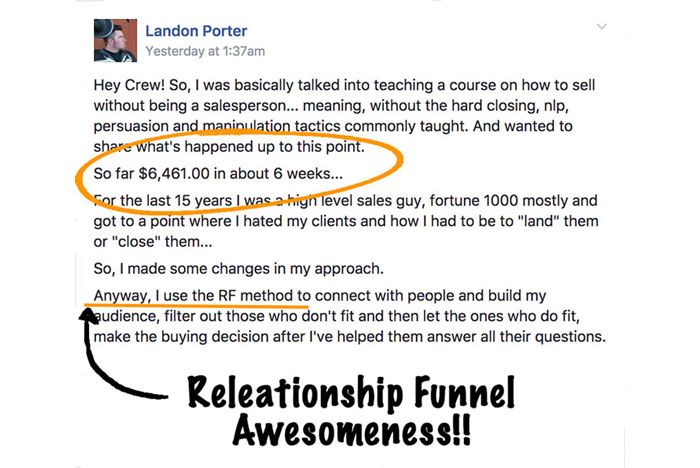 d) Relationship Funnels also allow you to scale your business while staying relevant and forming a personal connection with your audience.
e) A Relationship Funnel is a 100% evergreen system that works 24/7, 365 days a year to generate more predictable and consistent revenue each month.
f) Unlike other marketing funnels, you won't have to rely on repeat product launches and your revenue won't rely on a single launch. You won't have to go through the stress and work overload of preparing for launches.
Instead, Relationship Funnels are a well-optimized selling machine that you can continue to improve as time goes on. They use automation to continue to sell to new prospects as they enter your funnel.
g) And the best part about Relationship Funnels..
You won't feel salesy, fake or slimy from doing them. You can just be yourself and use your own personality to establish a real connection with your audience.
Don't be surprised if you start getting messages like these: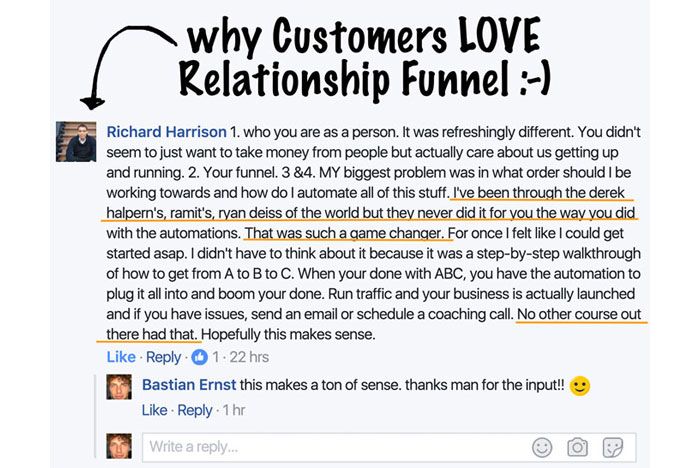 h) Relationship Funnels are future proof because they work with any platform and human psychology won't change.
i) Because you are focused on creating real value for your audience and forming a real relationship, Relationship Funnels will also allow you to boost your engagement levels, sales conversions, and ROI.
Focus on bringing the right prospects into your funnel and your sales WILL increase.
j) Another benefit of Relationship Funnels is that they are more cost efficient because you won't waste money on people who won't naturally engage with your content.  Focus on creating engagement and you will end up converting more people with less traffic.
You can actually decrease your marketing spend and achieve a higher level of profitability with this approach.
k) With a Relationship Funnel, you won't have to worry about finding a constant stream of new customers each month. You also won't have to come up with new promotions every month to sustain your business.
l) Unlike sales funnels, Relationship Funnels will give you predictable cash flow, profits, and ROI each month.

To Sum It Up
Relationships and trust are everything in business. People seek to connect with other people in business, but many businesses focus on selling rather than building genuine relationships.
Be the business that focuses on relationships and you will experience more growth than you ever thought was possible.
And if you want to see a real-world case study on how a 7-figure online business does built multiple sales funnels and turns website visitors into paying customers, download your PDF below.
If you enjoyed this article, let me know in the comments below. I would love to connect with you! Peace out!