How To Build A Sales Funnel With ActiveCampaign
When I first started my online business I struggled to sell products ..
I was mainly using product launches. And while this old approach made me some money, it was a lot of hard work.
(I will reveal a better way in a sec ..)
I had to spend countless days, or even weeks, building new launch sequences every time I wanted to make a buck.
Worst of all, it wasn't scalable.
Results were subpar because I was sending the same emails to everyone.
My marketing wasn't personalized to people's individual needs.
Some of the best salespeople (Like Oren Klaff) close million dollar deals because they build rapport with their prospects and customize their sales pitch.
So I thought to myself ..
What if I could create a virtual salesperson that works 24/7/365 that sells on autopilot?
And what if this salesperson could collect data on each of my prospects and send them information personalized to their interests?
A good salesperson can build relationships, create trust, install buying beliefs and then present the right offer at the right time.
Now picture having an entire sales team delivering your message and selling your products to thousands of people.
The good news is you CAN deliver sales pitches at scale by using email marketing. If you use a full funnel marketing strategy and build an awesome sales funnel.
That is what this article is all about. You will discover exactly how to do that here.
But isn't email marketing dead?
With the ability to reach customers through other channels, many people are focusing their efforts on other areas like social media, SEO or banner ads ..
However, these are NOT the highest ROI channels.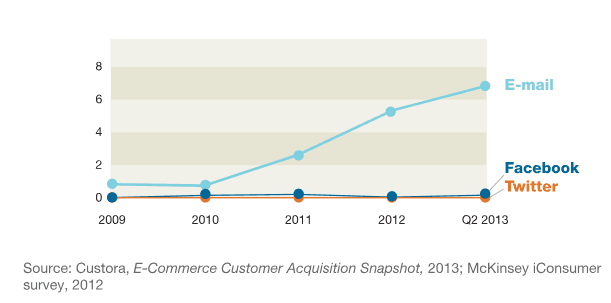 Email marketing is not dead.
Sales funnels that push unwanted products upon your readers are, but email marketing done the right way is alive and well.
You can build sales funnels the right way by using Respect Based Marketing. Use Relationship Funnels and smart funnel automation to send people helpful content and genuine offers. Then results like this are possible ..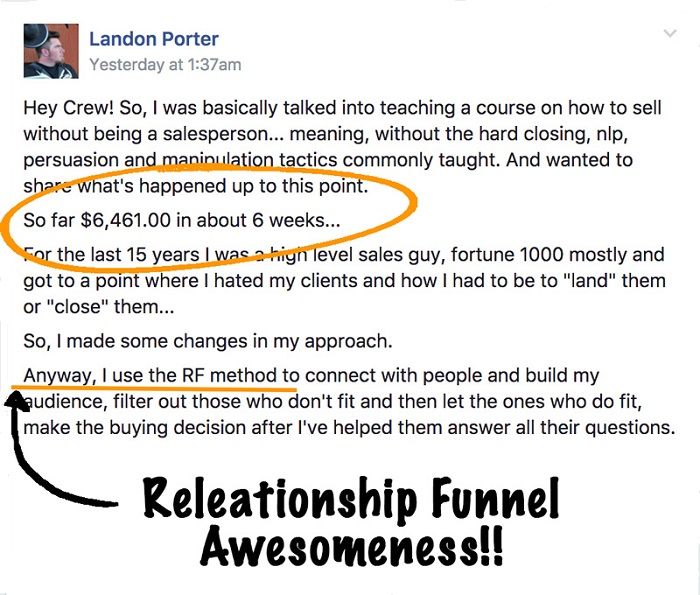 We've built our email sales funnels with ActiveCampaign in the past (we now use Wild Mail).
In this article, I'll cover the 4 Stages of an email sales funnel and how to set up each stage with ActiveCampaign.  
Want to learn how I create high converting Relationship Funnels and automate everything?
Overview: 4 Stages of building a Sales Funnel
A comprehensive email sales funnel consists of 4 stages:
Awareness Stage – Make prospects aware of your brand and convince them to join your email list.

Relationship Builder Stage – Build a relationship with your prospect by doing things like sending them educational content.

Selling Stage – After you have built trust with your readers, you can sell them products that help them solve their problems.

Upselling Stage – To maximize profits, offer relevant upsells to your customers.
The goal of your sales funnel is to move your prospect from awareness to the point of sale.
In the following sections, I will break down in detail how to use ActiveCampaign to set up each stage of your sales funnel so that you can install buying beliefs, build relationships and sell your products… all on autopilot!
If you would like to see an overview of all the tools we use at Wild Audience to implement our email sales funnel, click on the image below and download your PDF.
Step-by-Step Walkthrough: How to Build a Sales Funnel with ActiveCampaign
Let's walk through how to build a sales funnel step by step.
Awareness Stage
The awareness stage consists of lead generation and segmentation.
Lead Generation
The email sales funnel sequence begins with lead generation.
Here, you make your target customer aware of your brand and get them to join your email list.
How do you get people to join your email list?
By providing educational content that is interesting to your target customer.
Here are a couple of ways you can do this ..
Blogging is a great way to establish authority and drive organic traffic… for free!
When writing a blog post, be sure to spend time creating a resource that educates readers and gets them excited about learning more from you.
To persuade readers to join your email list, offer a content upgrade. This will provide even more educational content. To get the content upgrade, the reader will need to opt in to your email list.
Consistent blogging works because blogging attracts organic traffic.
Just make sure that your content is top quality and that you have a content upgrade to entice readers to sign up to your email list.
Produce an EBook or PDF Guide
Another way to grow an email list is to produce an EBook that targets your prospects' pain points.
Offer that EBook in exchange for their email address.
Then use paid ads (like Facebook, Google or Instagram) to drive targeted traffic to your landing page.
Creating a useful PDF download and promoting it with PPC is a good way to build an email list quickly.
So you've figured out how to grow a targeted email list? Great!
Let's take it to the next level with segmentation.
Segmentation involves gathering data from your email subscribers so that you can send them personalized content geared towards their interests.
Why is segmentation important?
Because sending content targeted towards your reader's interests increases engagement. Higher engagement leads to more sales.
At Wild Audience, we segment our list by asking 4-5 questions when they opt in. Qualified leads will take the time to answer the questions. We found that 71.74% of people that click the download link actually complete the opt in.
You can see an example of how this works by clicking on the image to download the Relationship Funnel graphic in this article: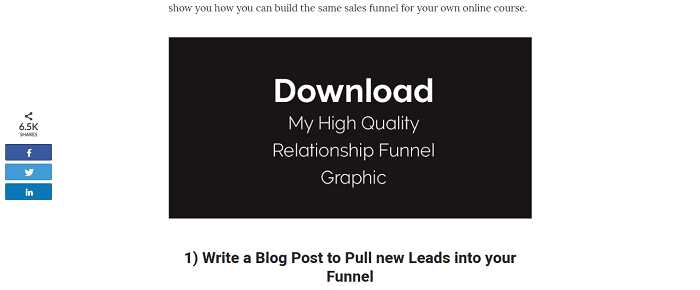 After someone clicks the image, they'll get a quick survey like this: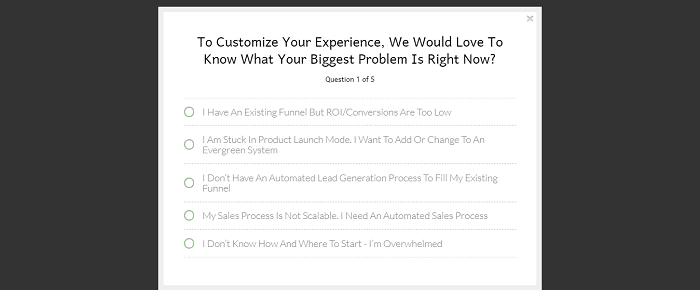 Once someone enters the requested information, their data gets stored in ActiveCampaign.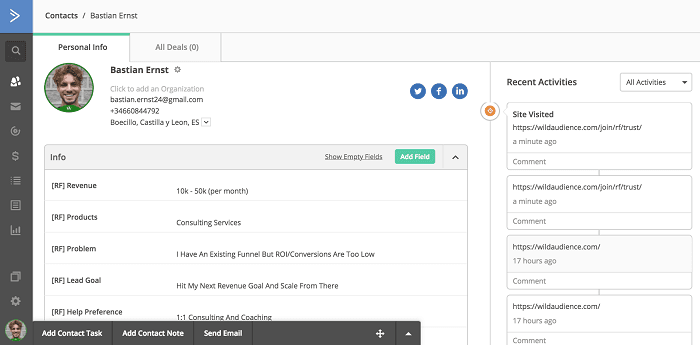 After the sign up is complete, ActiveCampaign will automatically deliver the bonus PDF that they signed up for.
After that, we can start building a relationship with our new subscribers using automated email sequences: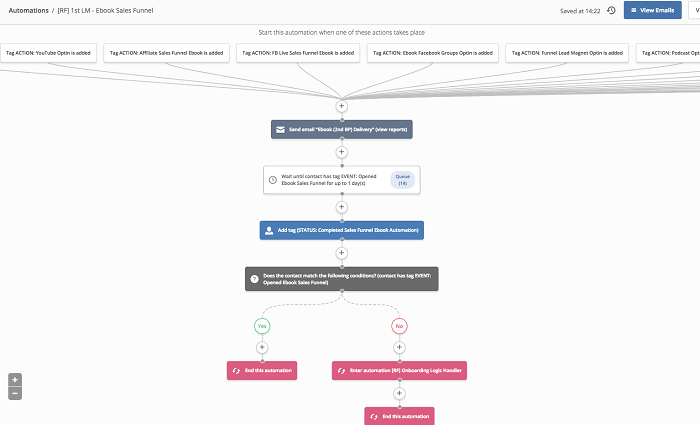 Relationship Building Stage
You've got your prospect's email address. Now what?
You can create a Relationship Building Sequence (RBS) to bond with your readers on autopilot. ActiveCampaign is a great tool to use to implement your RBS.
A good RBS will help you achieve the following:
– Establish a relationship. Business will always be relationships between people. Never forget that!
– Install all the necessary buying beliefs.
– Virtually close your prospects: Make your readers imagine what their life will be like when they use your product or work with you.
– Ultimately, the goal for your RBS is to prepare your prospect to purchase your products or services.
How to Automate Your RBS
You can do this by sending them a sequence of 4-7 emails.
These emails should be written to install your belief system into your prospects' minds.
You should also optimize your emails to maximize engagement, so you can get results like this: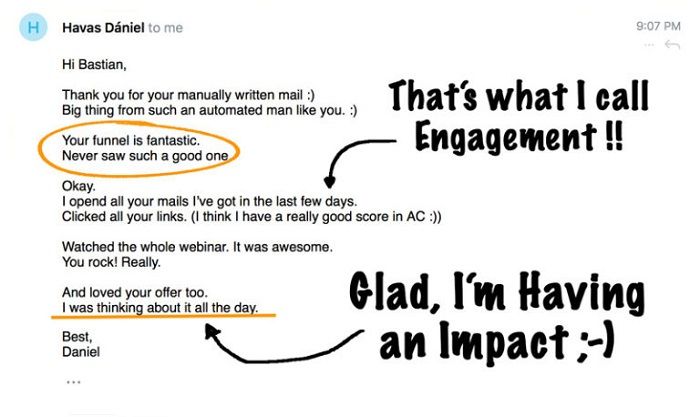 Because getting people micro-invested in your content will increase your conversion rates.
Here are a few ways to get people to micro-invest in your content and build engagement.
Create an activation hook – One way to get people to become engaged with your content is to simply ask them to reply to your email.
Your new subscriber will be more engaged because you actually took the time to build a relationship with them directly.
Here's a flow chart of what this automation sequence looks like: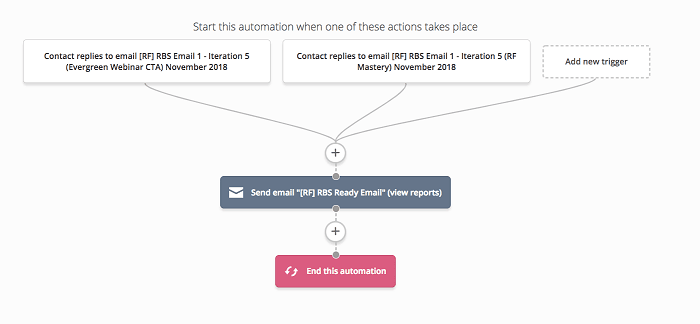 I ask my readers to reply to my email and respond with the word "Ready". When they do, I send them some free bonuses.
Here's a screenshot of Matthew replying to my email: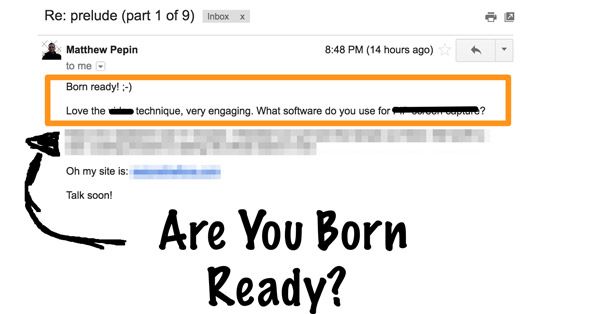 Frequency selectors – Let your users decide on how often to receive emails. This simple step prevents people from unsubscribing because you are sending too many emails.
Subscribers can consume your content in their own time. At a pace they are comfortable with.
You can see how we do that in the screenshot below.
If they click A, they get the next email immediately.
If they click B, they get it in 2 days time.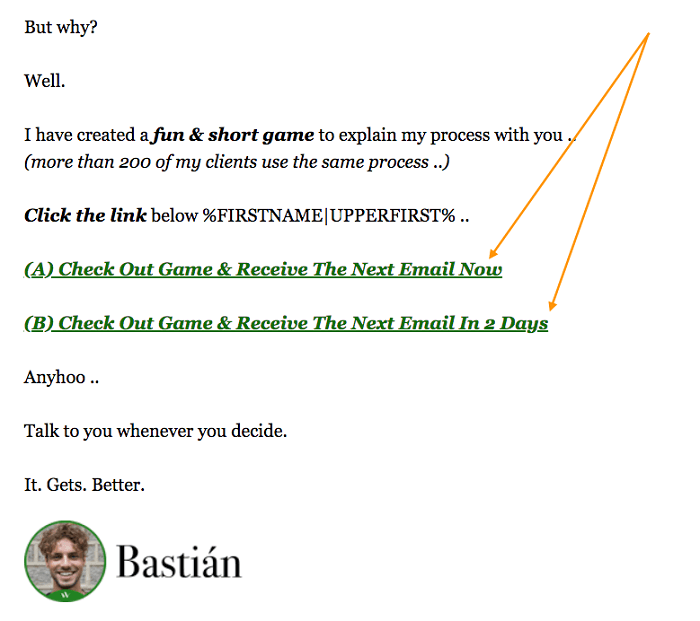 Cliffhangers and open loops – Get readers excited about future emails with cliffhangers and open loops. Hint at the awesome content that you will be sending in your next email to build anticipation.
If your open loops are working, don't be surprised if you start getting emails like this: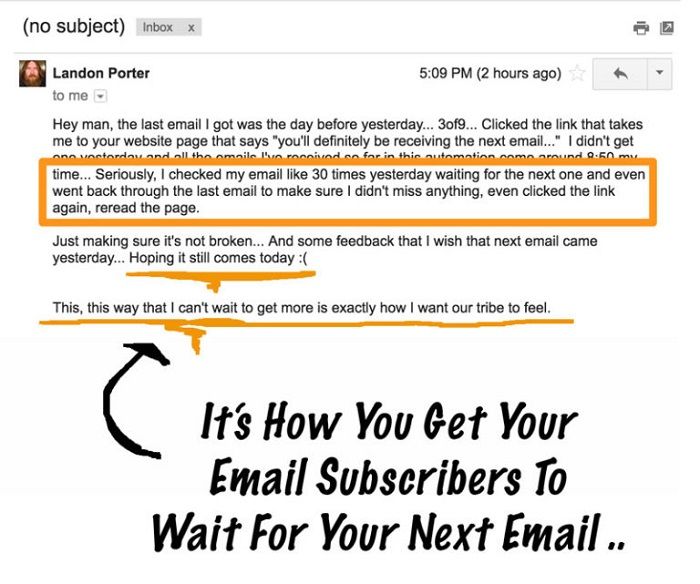 Dynamic content – Use dynamic content to personalize your emails for your readers. Personalization lets readers know that you are talking directly to them!
In this example, our email is personalized for the reader based on their revenue level.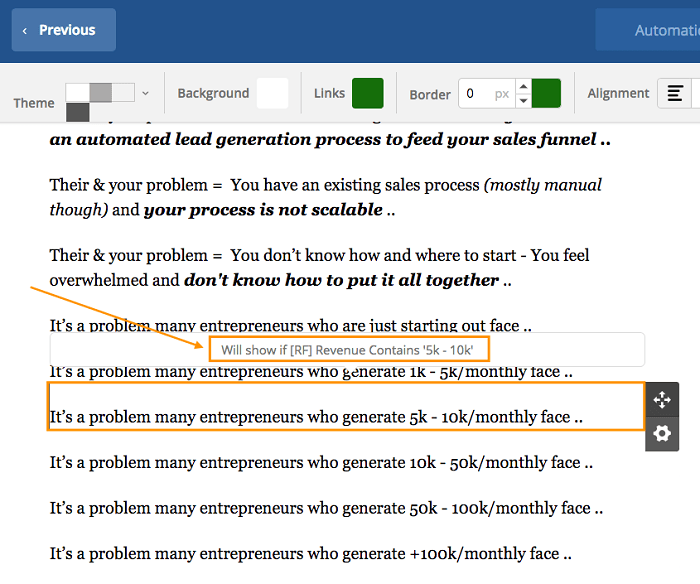 Lead scoring to track engagement – Finally, use lead scoring to track reader engagement.
If specific emails in your sequence aren't receiving strong engagement, you can rewrite them to improve performance. Or simply remove them from the sequence.
For example, you can create a point system to give points to prospects based on the following actions. Actions like purchasing products increases lead scores more than less committed actions like clicking a link.
     Replies to email: 10 points

     Visits sales page: 20 points

     Buys frontend product: 100 points

     Buys core products: 200 points
ActiveCampaign automatically keeps track of lead scores and you can even view each prospect's lead score individually if you want: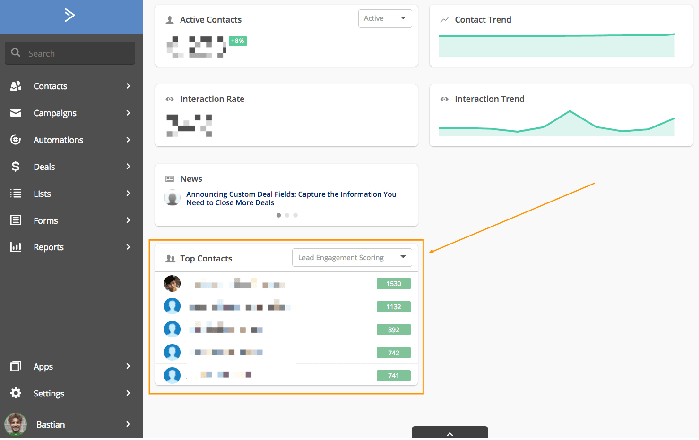 When can you start selling?
When you create your RBS, people should feel eager to purchase your product due to the awesome content you are giving them for free.
Focus on delivering value in your RBS. If you do this ..
People will naturally feel pulled towards your products instead of feeling like products are being pushed onto them.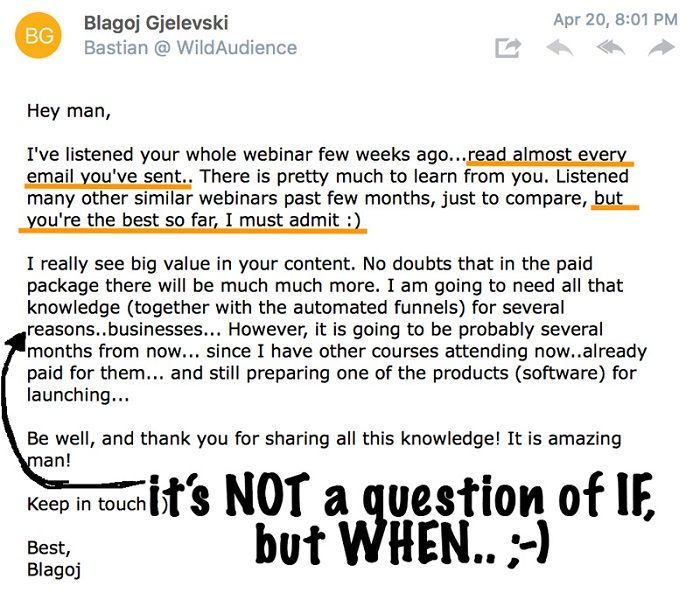 Then you can insert links to your conversion event into your emails so your readers get the opportunity to buy your stuff.
If you are selling a high ticket item, link to your sales page from the first email in your RBS and every email after that. Simpler sales funnels work for high ticket items because buyers that are purchasing these items already have a lot of knowledge about them.
If you are selling a course, start linking to your sales page somewhere between emails 4-7. People interested in courses need a few emails to educate them about your solution and why they need it, before they make a purchase.
Use your earlier emails to educate the prospect, build anticipation for the course and install buying beliefs.
What is the goal of the RBS?
Most people won't buy during the RBS. But that's okay, because making sales is not the goal of the RBS.
The goal of the RBS is to install buying beliefs.
If your prospects are not ready to buy yet, then put them into an "Evergreen Newsletter". This weekly newsletter will continue to educate your prospect while installing more buying beliefs.
You can link to your sales page at the end of each email so that your reader can buy when they are ready. Once they are ready, your readers will enter your sales sequence.
Selling Stage
Now that all the necessary buying beliefs are installed, you're ready to close the sale!
Choose your conversion event and send your prospects to it. Below are some examples of conversion events.
Text-based sales page – A long or short form text-based sales page can be a good way to sell lower priced products.

Video Sales Letter (VSL) – A video sales letter is another way to sell your product or service. With video, you can form a more personal connection with your viewers and demonstrate your expertise.

Hybrid – Your selling sequence can incorporate both text and video formats. The advantage of having both is that some people prefer text that they can read quickly while others will prefer the interactivity of video.

Live webinar – Live webinars can be a great format as it allows you to interact with your audience, answer questions and address sales objections. People often use live webinars to sell high ticket items or services.

Evergreen webinar – Once you've tested your webinar and optimized its selling potential, you can turn your webinar into an evergreen webinar. This will sell your products 24/7. Evergreen webinars run on autopilot and earn you money while you sleep.

Application – If you have limited capacity, you may want prospects to fill out an application to work with you. Ask questions that will allow you to pre-qualify prospects so that you can quickly decide who you want to work with.

Strategy, sales or discovery call – If you are selling a high priced consulting service or product, then you might want to get your prospect on a sales or discovery call.

Trial – A inexpensive paid or free trial can be a good way to get people to try out your product, especially if you are selling a site membership or recurring software subscription. If your customer likes your product, then they might become a regular customer.
Now that you know the 8 different conversion events, how do you get your prospects to those pages?
There are 3 ways to send prospects to your conversion event:
Link from your RBS to your sales event.
People go through your RBS, they click a link in there to check out your sales page, and then they purchase.
However, the majority of people will convert a little later.
Link from your Evergreen Newsletter to your sales event.
They recieve your weekly Evergreen Newsletter, and click a link in one of those emails. This will take them to the sales page as well.
The Evergreen Newsletter keeps you on their mind. Weekly.
So, when they are ready to purchase your solution, they will.
Once a user reaches a certain lead score, you can send them through your sales sequence.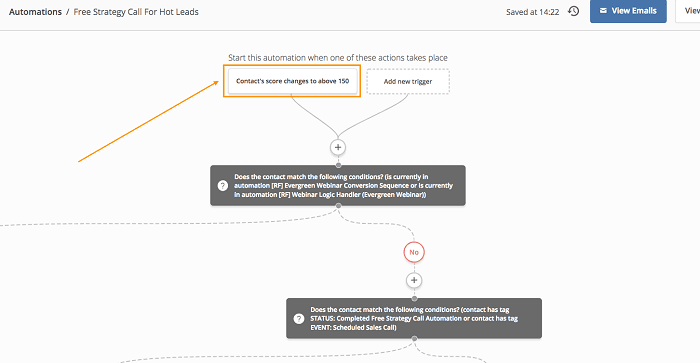 Your sales sequence is an automated email sequence that is designed to sell.
You can use scarcity, discounts and bonuses to increase the likelihood that they'll buy. Just be sure to avoid creating fake scarcity to trick people into buying, because people can often detect that tactic and don't like it (which could hurt your business long term ..)
Upselling Stage
Getting a customer is great, but if you really want to make money you absolutely need to upsell other products and services to your existing customers.
Your existing customers already have a relationship with you. If you delivered a great experience with their first purchase, they may want to buy from you again.
Just keep delivering value with each transaction!
How to increase customer lifetime value (CLV)
You should add all new customers to an email onboarding sequence. The onboarding sequence helps customers get started with your product and get the most value from it.
At Wild Audience, we use a 4-part email sequence for our new Relationship Funnel customers.
Once they've received value from their initial purchase, add them into an upsell sequence where you upsell them a more expensive premium product or cross sell them a related product.
With tools like Zapier and Close, you can create webhooks from ActiveCampaign so that buyers of your product are automatically sent into your sales CRM.
You can then follow up by calling them to get feedback, to see if they are interested in purchasing one of your higher priced products or services.
Show them ads on Facebook or Instagram
ActiveCampaign actually integrates with Facebook. You can put subscribers into a custom audience from ActiveCampaign automatically. If you do this, these people will see a very specific ad on Facebook or Instagram.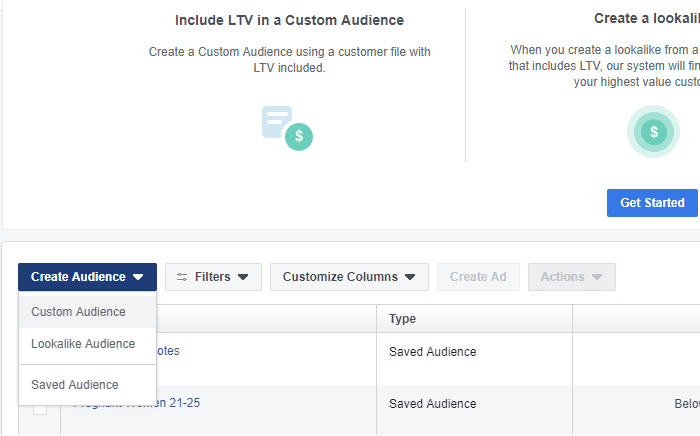 These specific ads form a "retargeting ad sequence".
These retargeting ads direct buyers to the sales pages for relevant premium products.
Since your buyers are already familiar with your brand they are more likely to click your ad. They are also more likely to buy than cold prospects.
To Sum It Up
I hope you're pumped about building a sales funnel with ActiveCampaign.
To create a scalable business that runs email campaigns on autopilot, you need a good email marketing automation tool.
You need a tool that can handle the Relationship Building Sequence (RBS), the actual sales funnel and upsells. You need a tool that allows you to segment your prospects based on interests and personalize the experience.
These are the benefits we like the most.
We love them so much that we decided to team up with them to offer our audience (read: you!) 1-click automation templates & flexible pricing.You can discover more about that here..
And if you would like to see a bonus video walkthrough of a Wild Audience Sales funnel which has generated us 6 figures in revenue every year, click on the image below.
What did you think about this article? Let me know in the comments below.