How CryptoProfe manages their community with automations
Introduction
CryptoProfe is a crypto assets training company that seeks to help all types of users get started in the world of cryptocurrencies safely and consciously. They educate through courses and educational material and help their users manage their portfolios (if they wish).
Eric is a Co-Founder of CryptoProfe, and together with his team, is on a mission to educate 1 million people on the cryptocurrency market.
 
History
Bitcoin appeared in the year 2008. Years later, the cryptocurrency market explodes, and with it, a huge amount of investment opportunities are born.
Within all that mix of opportunities, a few passionate about technology arise; a  handful of people who understand better the new possibilities and risks that investing in cryptocurrencies brings, and seek to share that knowledge.
That's how CryptoProfe was born.
For anyone who wants to enter the crypto market, learn how to analyze charts, discover projects, and learn about new platforms, CryptoProfe is there for them.
The challenge
Serving a trending market is tempting, but challenging at the same time. The initial growth curve is not as difficult as in other businesses, but the challenge of keeping your users happy is crucial.
A couple of people start getting interested in CryptoProfe's training. Then dozens, then hundreds of people...  every day.
Eric told me in the interview that there were times when they were answering more than 300 emails a day (between the afternoon and the evening).
CryptoProfe had had a good start and good user acceptance, but at a certain point, attracting and keeping new users was proving impossible.
"The day has 24 hours, you know. As much as we wanted to keep growing, we also needed to rest."
The solution
Entrepreneurs surround themselves with other entrepreneurs, so Eric started asking around in his circle to find out what his other colleagues with similar projects were doing.
One thing that was clear to him was that he wanted to automate a large part of his emails, the content of his courses and training.
He got a lot of answers, but a specific one stuck: Email Marketing.  
Despite his apprehension, he decided to look for tools that would allow him to automate his emails.
"I must say that I used to have a hard time trusting email marketing and its results. Didn't quite understand it."
After days of research looking for the ideal company to start with and having a launch just around the corner, they make a  decision:
They start using ActiveCampaign.
First launch
The first thing they automated was their lead acquisition, especially, the first launch they did. It was a course where they looked in depth at the fundamentals before investing in a crypto project (pure value content).
This gave way to the start of the business cycle within the CryptoProfe funnel, that is:
Someone is interested in the free training

Shares their data in exchange for receiving the content

Consumes the content and learns

If they are satisfied and want to go know more, they get in touch to buy the release
In 4 simple steps, Eric was already saving a lot of time sending emails, verifying that the emails were received, sending reminders... Everything happened automatically, and thanks to the automations feature in Wild Mail.
Automating their acquisition and sales cycle
This also gave way to a much more dynamic sales cycle. Every day Eric and his team received in their Wild Mail account people interested in their industry and their products.
It is true that not all of them were interested in buying, but the simple fact of having the contact and data of potential buyers, gave them new commercial possibilities every day. And all this while still providing value.
"In the end, we had a lot of valuable information, and we wanted people to be able to listen to us for free. Then, if more or fewer people stayed with us, it didn't matter, but at least we were providing that value."
From this point on, the room for improvement was clearer... Eric and his team had quantified their results, and they quickly set to work to continue improving.
Sending and measuring results to improve
Giving value was great, but being able to identify the most engaged users was critical.
Why? Mainly, to better serve the users who did want to continue with CryptoProfe.
Eric's team continues to this day to maintain some manual communication, but only with the right users.
How do you recognize these users? They're the ones that take advantage of the opportunities they have to interact with CryptoProfe's content and emails, plus it's super easy to know where these users are coming from and what are the best actions that convert them.
From here, Eric and his team go into a constant experimentation loop, as they can do so with Wild Mail's results.
They look at click-through rates

They look at the emails that have been replied to

They look at the attendance rate of their events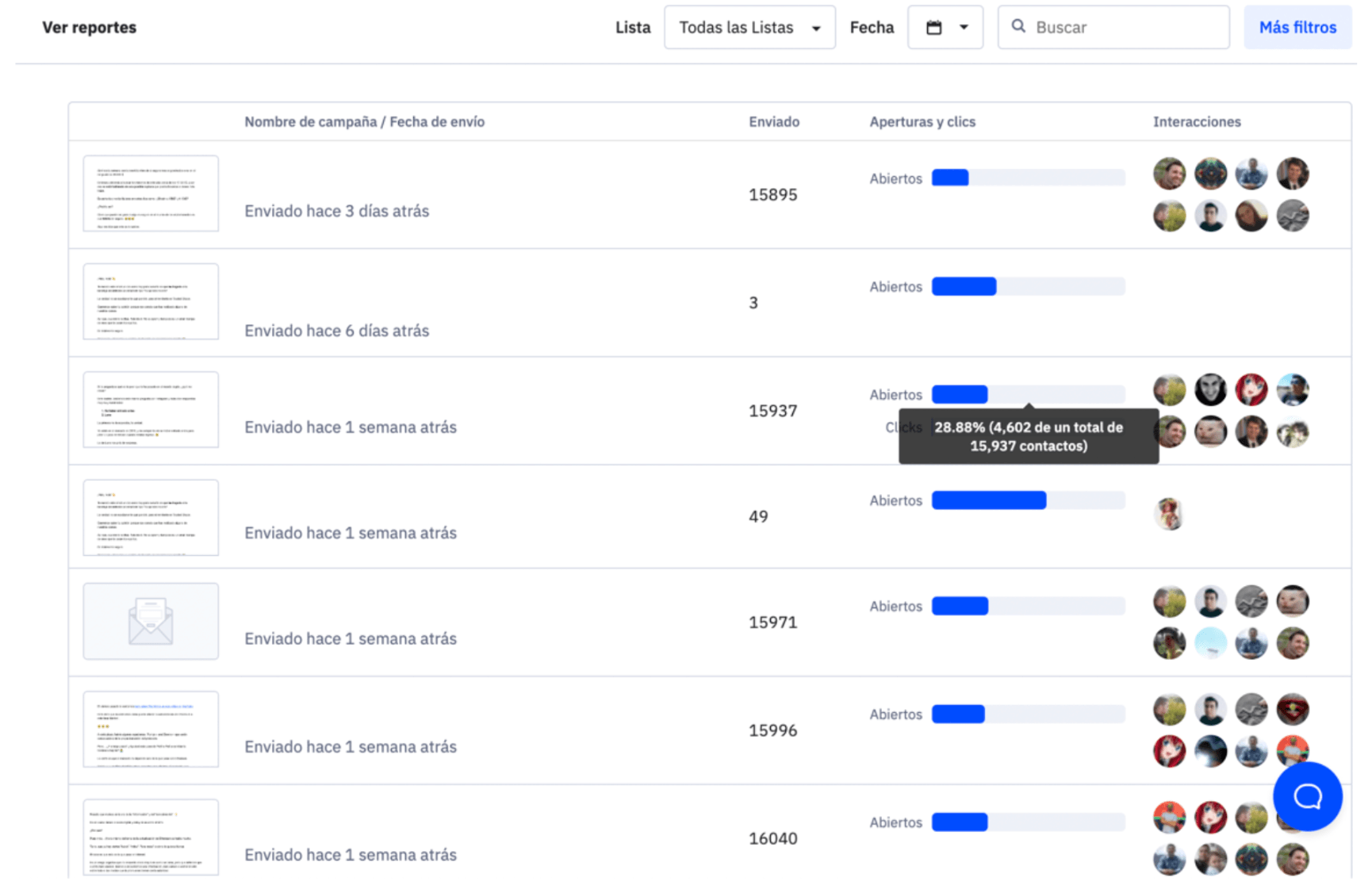 Sensitive information is kept hidden regarding CryptoProfe's statistics.
And every month they meet with a single goal in mind: to see which are the best conversion techniques and improve them.
"Automatically, this person comes in, you send them a couple of emails, you give them information and you can measure how interested they are. When you filter users with the help  of automations, you can focus on sending a manual portion of those emails, but only to those who intend to follow through."
The Results
The change for Eric has been incredible; from sending hundreds of emails a day to hundreds of potential buyers, to only looking at people who are a few steps away from buying, and emphasizing that process.
Today, CryptoProfe has full control of its sales funnel, from acquisition, going through consideration, and finally pushing for better conversion.
They can analyze each aspect individually, and tailor Wild Mail to each strategy they put forward, whether it's improving their open rates, sending emails to specific segments, better measuring their results, etc.
"Something I learned a few months ago when I started working as CEO of the company, is that everything has to be measured to be able to take action. In the end, you can't work listening to just your gut, you have to really work with data."

Before
Fully manual and reactive communications

No filtering of the most interested leads

No possibility to capture new users and keep them engaged
After
Automated attention process when new leads arrive

Filtering and segmentation of the leads that are most interested in purchasing

Students well cared for and receiving the right classes at the right time

More time to focus on growth
Challenges never end for an ambitious business like CryptoProfe, and here at  Wild Mail, we will be happy to continue collaborating side by side to help them overcome any obstacles.
"I think it is important to know the people behind these tools, and in the end, we agree that you [Luis and Benji] are wizards, and it is a pleasure to be fighting side by side so that everything goes in the best possible way".
What is Wild Mail?
Wild Mail is ActiveCampaign for European companies with extra benefits:
We are Europe-based serving European companies,

premium & localised support in less than 1h,

our free email analytics app for ActiveCampaign, and

best-in-class ActiveCampaign training
CryptoProfe is a crypto asset training company that seeks to help all types of users get started in the world of cryptocurrencies safely and consciously.