How EM uses ActiveCampaign to understand their users' behavior
Introduction
Escuela de la Memoria is a training and education company dedicated to helping people improve their memory. Yes, you read that correctly.
Through different techniques and methods, students can learn to squeeze even more out of their memory and cognitive capacity, making them much more attentive to details and able to remember them more easily.
Their main goal is for people to enjoy and get more out of the knowledge they acquire over time.
History
As in many other cases, the history of Escuela de la Memoria begins with its founders: 
José María Bea and Miguel Ángel Vergara, two record-breaking men who dedicated a good part of their lives to becoming the people with the best memory in the world (literally).
Achieving incredible feats, which you can check out here, they began -unintentionally- to open a space for themselves among the most influential and relevant people in their sector: 
From participating in different shows and programs, going through a huge number of challenges, to attendance and conquest of world championships, that's what José María and Miguel Ángel dedicated themselves to before bringing Escuela de la Memoria to life.
Around 2014 they realized that what they were doing could impact and change the lives of others. Their desire to share and teach everything they had learned over the years motivated them to get to work.
And that is how the idea of a training and education business, called Escuela de la Memoria, was born.
The challenge
Like any business in its beginnings, improving sales was one of the main challenges. Lots of emails to answer, lots of interested people, lots of users asking for other services ..
Finding a service or product to sell is great, but dealing with growth is a challenge. That was the main hurdle for José María and Miguel Ángel.
To their luck, José María had a degree in computer engineering, so he knew the importance of creating systems in order to grow.
"It's not enough to just have a good product to sell. There has to be a whole system behind it that allows you to grow. If you want to improve, you can't do it all manually."
Starting with the most time-consuming task, answering emails and communicating with potential customers, they decided to create the first system around it.
The goal: automate repetitive tasks to stay focused on the future growth of the company.
The solution
José María pointed out various times all the advantages of living in a world as digitalized as ours, and above all, having a minimum knowledge to take advantage of it.
"We have the advantage that we live in a technological era, and in our case, we are 100% online. You have the advantage that if you do it right, you can automate a lot of processes."
When they started researching possible solutions, they came across two very specific ones:
They explored the possibilities, saw the potential, and decided to implement them to create their first response system.
Automating responses
Both founders were impressed with all the possibilities that both solutions could bring. They had discovered a new world that they were about to exploit.
"I discovered a world of automations I was completely unaware of... And specifically, regarding the email automation part, I've been really surprised at what we can do. It's impressive."
They started out with a very simple software with limited possibilities, but it served as an eye-opener for everything that was to come.
After a couple of months, they made the leap to a more complete tool: 
And that was a game changer for them.
"If you have a tool that allows you to implement what you've envisioned, then that's perfect."
Of all the emails they responded to, José María noticed that they were sending almost the same information to all of their potential customers.
That was the first system they created: 
Automating the response to purchase requests.
They started leaving scheduled messages related to upcoming lessons, the next steps in the process, and answering the most common questions .. 
They started to anticipate all the messages they would receive, which brought them two things:
A happier community, since they had taken the time to think about them and their possible doubts.

A shorter business cycle, as people cleared up their doubts in less time.
"Simple" as it was, the first system worked.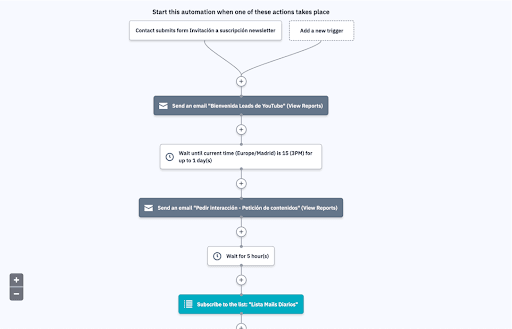 Example: Welcome Sequence automation
Prospecting users based on their behavior
ActiveCampaign was a game changer for Escuela de la Memoria.
Automating messages was fine, that is, it freed up a significant amount of time, but it was only the first step.
If the company wanted to continue to grow, they had to improve their marketing, and ActiveCampaign was vital in achieving that.
"I wanted students not to feel alone, to have a personal impact on them, and when I saw that depending on their behavior I could send them certain emails, I thought that was another level .."
By implementing a website tracking automation, José María and his team were able to know which pages their students had visited. So they sent certain content depending on their tastes and interaction.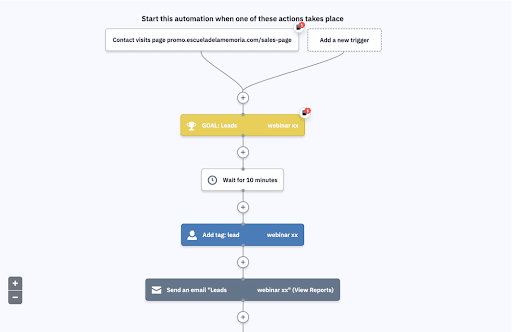 Example: Site tracking automation
That worked wonders, but it marked a "before and after" in their prospecting and sales process.
This is explained beautifully in this excerpt: 7:26 - 9:20:
Basically, Escuela de la Memoria created different automations that recognize the pages and content with which users interact, which allows the team to segment these users, and send them content most related to their interests.
This has two great benefits, exactly those mentioned in the excerpt:
The possibility of increasing authority so that users feel more confident to make a purchase.
Then, if we also take into account the following two features that ActiveCampaign automations have:
No limit to how many automations you can create

You can create various copies of the same automation
Then the improvement process has been constant and without any limitations.

The power of integrations between tools
With better sales performance, the growth for Escuela de la Memoria has been constant, which has required them to use other tools in different areas to keep automating their processes.
"We use different tools to keep everything organized: WooCommerce for sales, Google Sheets... I find it essential to connect all these tools with ActiveCampaign".
With ActiveCampaign, José María can know the purchase history of a user through the integration with Woocommerce. All the user's data will be translated into his ActiveCampaign account, so there is no need to go to his WooCommerce profile.
Also, this kind of information is useful for Escuela de la Memoria, as they can create automations and conditional segments based on WooCommerce data.
The same with Google Sheets or Calendly integrations.
The Results
Escuela de la Memoria has a robust value proposition, driven by its founders and maximized by the capabilities of ActiveCampaign, together with Wild Mail.
Before
Hundreds of emails to be answered manually

0 possibilities to know user behavior
After
Sending the right email at the right time

Leads acquisition systems and measurement of results

Understanding the behavior, intentions, and status of users

Integration of other tools with ActiveCampaign to centralize data
Escuela de la Memoria has taken advantage of ActiveCampaign to a level that few people reach, and the best thing is that they plan to continue doing it. 
We at Wild Mail will be happy to continue working together to create better automations and take the utmost care of their effectiveness.
Recommendations
José María has a lot of experience using ActiveCampaign, so we didn't want to miss the opportunity to ask for recommendations for those people who are just starting out, or who are taking their first steps.
His recommendations were:
Lead Scoring: score leads based on their behavior

Google Sheets Automation: Add users to a spreadsheet to have more freedom to measure data.
What is Wild Mail?
Wild Mail is ActiveCampaign for European companies with extra benefits:
We are Europe-based serving European companies,

premium & localised support in less than 1h,

our free email analytics app for ActiveCampaign, and

best-in-class ActiveCampaign training
Escuela de la Memoria is a training and education company dedicated to helping people improve their memory.
Industry:
Infoproduct (B2C)