How to Send ActiveCampaign Emails With Postmark
Sending transactional emails is a crucial component of any successful digital business, and ActiveCampaign is one of the top email automation platforms out there.
If you're looking to send instant emails with ActiveCampaign, integrating it with Postmark can help you send lightning-fast & personalized emails to your customers. 
Here's how to get started:
What is a transactional email?
Transactional emails are automated emails that are triggered by a specific action or event, such as a purchase confirmation or password reset request. Unlike promotional emails, which are designed to promote a product or service, transactional emails are typically sent for functional purposes and contain information that the recipient needs to know.
Examples of common transactional emails include:
These emails are often sent from a company's own domain and are designed to look and feel like an extension of the company's branding and website.
Transactional emails are a key component of any successful email marketing strategy, as they help build trust and credibility with customers by providing timely and relevant information. They also have a high open rate, as recipients are often expecting and actively seeking out this information.
Step 1: Set up your Postmark account
To get started with sending transactional emails through Postmark, you'll need to create an account on their website. 
Once you're signed up, you can follow their easy setup guide to get started with integrating Postmark with ActiveCampaign.
Step 2: Connect Postmark with ActiveCampaign
To start sending transactional emails through ActiveCampaign, you'll need to connect your Postmark account to your ActiveCampaign account. 
This can be done through Postmark's API, and there are plenty of resources available to help you through the process.
Learn how to do it watching our tutorial:
Step 3: Create your first transactional email
With your accounts connected, you're ready to start creating your first transactional email! 
To send your emails through Postmark, you will need to create an email template in ActiveCampaign, and then use that template inside the automation feature. You can choose from the templates that ActiveCampaign offers, or you can create your own custom design. 
Once you've chosen and created your template, you can use Postmark's action through to send your email to your customers in lightning-fast time.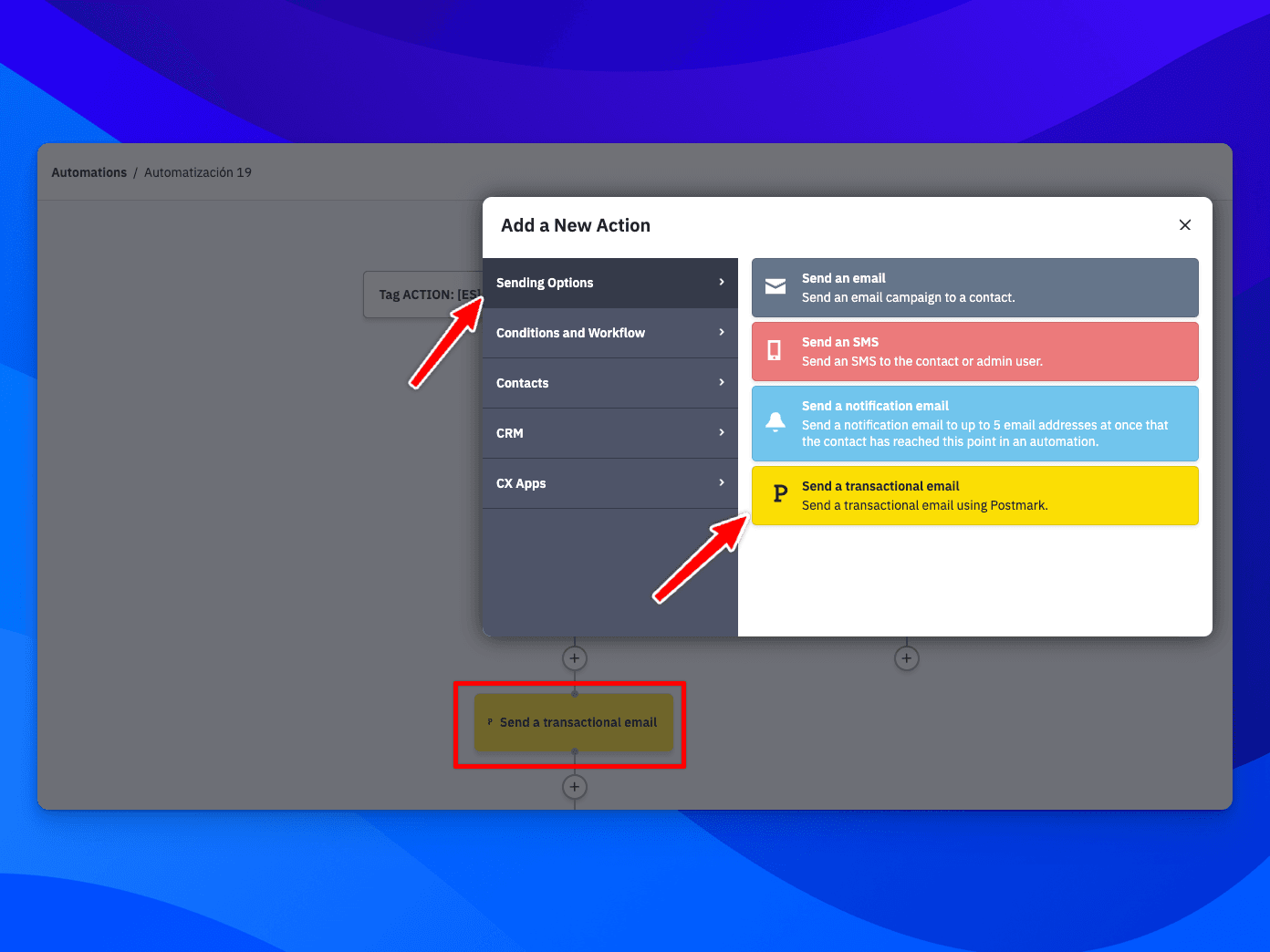 Learn how to do it following the steps in our tutorial 🔽
Best Practices for Optimizing Your Transactional Emails
To make the most of your transactional emails, it's important to keep a few best practices in mind. 
1. First, make sure your emails are personalized and relevant to your customers' needs. Use segmentation and automation to send targeted emails that speak directly to their interests and behaviors.
2. Second, make sure your emails are optimized for deliverability. This means avoiding spam triggers like excessive use of capital letters, exclamation points, or spammy language. You should also make sure your email content is optimized for mobile devices, as more and more people are checking their email on their phones.
3. Finally, don't forget to track and analyze your transactional email performance. Postmark offers robust reporting and analytics tools to help you understand how your emails are performing and make data-driven decisions about how to optimize your campaigns in the future. 
In conclusion, sending transactional emails with ActiveCampaign and Postmark can help you build stronger customer relationships and automate your marketing and sales processes. By following these steps and best practices, you can start sending personalized, lightning-fast emails that drive results for your business.